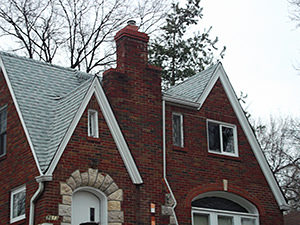 As one of the most trusted roofing contractors in the St. Charles area, you will be joining thousands of satisfied customers when you choose us for roofing service. We take pride in our work, and make it a point never to try to sell you services you do not need. Some of the complete roofing services that we offer include:
When it comes to roofing repair, our technicians are number one. We have experience working with all types of roofs and roofing materials. Whether your home has a peaked Alpine style roof, a flat roof, or somewhere in between, our experienced roofing contractors will be employing only the highest quality materials and time-tested techniques to your project.
Before making any major investments or repairs, take advantage of our roofing contractors' 50+ combined years of experience in inspections and leak tracing. We will help you determine where the problem lies, and provide honest advice about the most effective, financially sound approach to repairs. Our 20-point roof inspection will provide you with a clear picture of the overall health of your roof and assist you in determining the best path forward.
Roof Leak Detection and Repair
If you notice that your roof is beginning to leak, it is important to locate the source of the problem as quickly as possible. Our roofing technicians are experts at roof leak repair and can locate and repair any leaks, often preventing the need for costly roof replacement. With our satisfaction guarantee, you can sleep easy knowing that you have made a solid investment in the overall condition and value of your home.
If you think it is time for a full roof replacement, one of our experienced roofing contractors will come out to your home to provide an estimate for your replacement. All of our technicians are Certified Master Applicators and Schneider Roofing is a Select Shingle Master so you can be sure that your new roof will last for years to come.
Hail can cause severe damage your shingles and can result in leaks in your roof. Strong wind in storms can also be just as damaging. Branches can drop and cause catastrophic damage, and high gusts can cause damage to your roofing tiles or shingles as well. If you experience any of these problems, our roofing contractors can work quickly to provide patching and repair services.
Major roof damage, when not dealt with immediately – especially during harsh weather – can quickly compound itself leading to greater problems down the road. Leaks and holes can compromise the immediate habitability of the home, putting your family in a challenging and even dangerous situation. Schneider Roofing and Remodeling is your local roofing contractor, so we are in the best possible position to offer you emergency roofing services quickly whenever you need them.
When it comes to commercial roofs, we understand that any roofing repair project can be a major expense. Our roofing inspections are the first step in helping you make the best maintenance, repair, or replacement decisions. Also, we offer maintenance programs to help keep your roof in the best condition often preventing the need for major repairs and expenses.