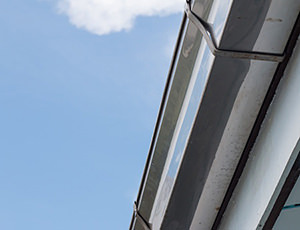 Our roofing contractors receive a lot of questions from customers when it comes to roofing and siding projects. Therefore, we have put together this helpful FAQ list to help answer some of the more common roofing questions. For more information or answers to your specific roofing questions, contact our St. Charles roofing company today!
Roofing FAQs
Can we put a new roof on during the winter?
Absolutely! Ideally, we would prefer to install new roofing when the weather is warm, but we can repair or install a new roof any time of the year. Winter installations require extra precautions, as we want to ensure that the home stays watertight during the roofing process. Whenever the day's work is complete, we will cover the roof with felt to keep it dry overnight, and we always have huge tarps on hand in case of a sudden storm!
In a perfect world, we could do all roofing projects in the summertime, but sometimes you are not aware of a problem until the nasty winter weather causes your roof to leak. In some cases, it is not a good idea to wait until summer before fixing a problem, so we are available all year.
Must you remove my solar panels to install the new roofing?
Usually, yes. Most solar panels are bolted or mounted into the existing roofing material, and they are charged with a type of anti-freeze. Unfortunately, they will need to be removed by a licensed plumber to ensure that they are removed safely and any dangerous chemicals are handled correctly. Usually, the cost for this will be between $500 and $1,000, but the price could be higher if the panels are very large or very complex.
Some types of solar panels can be left on the roof during the roofing process, but this is rare. We can generally answer your questions specifically during the estimate and assessment process.
Do you keep the property clean? What do you do with the old roofing?
We make it a priority to keep our working area clean. From your perspective, it helps the property look nicer, but from our perspective, a clean working area is a safe working area for our roofing contractors. We take great pride in maintaining a neat and clean property while we are working on your roof. We cover any bushes, lawns, or shrubbery with a tarp as needed, and we will treat your property with the same care and concern that we would treat our own homes.
All debris and materials from the old roof are disposed of in a legal and proper fashion. Some older roofs contain asbestos or other dangerous chemicals, so it is important that we remove all of the roofing debris from your property safely and dispose of it appropriately.
How do I know if I have a roof problem?
Unfortunately, many smaller roof problems can go unnoticed until they become a BIG problem! Because of this, we recommend that homeowners have their roofing inspected at least twice a year so that we can find any small problems before they cause major damage. We also recommend that homeowners have a roofing inspection done before buying or selling a new home, and this is usually part of a normal home inspection. Your periodic inspections will usually discover any cracked, warped, or missing shingles, and they will notice any roofing problems visible from the exterior of the home.
Indoors, a leaky roof may show up as cracked paint, discolored plaster or drywall, and peeling wallpaper. If you have an attic or upper crawlspace, after a heavy rain you will want to look for any pooling water or moisture problems. Additionally, if you think you have animals in the attic (if you hear scratching from the attic, for example), you may want to have a roofing contractor inspect your roof to determine whether the animals got in through a hole or damage to the roof.
How long should my roof last?
Unfortunately, there is no easy answer to this question! Roofing deteriorates at different levels, and around the St. Louis area, the weather often plays a major role in damaging the roof. We have seen roofs installed by low-quality roofing contractors that needed replacement in as little as six or seven years, but we have also seen roofs that lasted more than 60 years before they needed replacement. Most roofing contractors feel that 20 years is an acceptable service life, but that varies widely depending on the type of roof you select.
At Schneider Roofing and Remodeling, we guarantee all of our labor and materials for 10 years, so if your new roof gives you any trouble, we will take care of it free of charge. Some of our roofing products carry longer warranties on the materials, sometimes as high as 50 years! Regardless of which option you choose, we will be happy to fill you in on the details and let you know what type of warranties or guarantees your new roof will be qualified for.
I need my roofing replaced but cannot afford it right now. What can I do?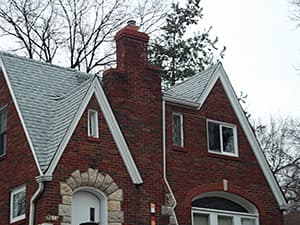 Contact us anyway! It is impossible to know how much it will actually cost until you have an estimate, as each project is slightly different and many factors go into determining what the cost will be. We may even find that total roof replacement is unnecessary!
If you are having roof problems but cannot afford to replace the roof, we will help you as much as possible with emergency repairs until a replacement option can be provided. We will NEVER promote a service that is not in your best interest, and we will never suggest replacement when more cost-effective roofing repairs can be made.
We also offer affordable roof financing options that can help make your project more affordable.
Where can I learn more about choosing the best roofing company for the job?
For more information, feel free to visit the links below:
Siding and Gutters FAQs
If painting is not required, how do I maintain my vinyl siding?
With vinyl siding, there is no regular maintenance required. Occasionally, you may want to clean your siding, but we usually get enough rain most of the year to keep it looking neat and tidy. Periodically, you will want to hose off your vinyl siding and soffit with a garden hose and clear water. This may be especially necessary in areas like overhangs that are not regularly exposed to rainfall.
If your siding needs a serious cleaning, you can use a soft-bristled, long-handled brush that attaches to your garden hose. You want to avoid rubbing vigorously, as it can create glossy areas over the siding's finish. If you have hard-to-remove dirt, use a solution that is recommended by the manufacturer. Start at the bottom and work your way up, as it helps to reduce streaking. Whenever the siding is washed, it should be rinsed thoroughly with fresh water from a garden hose.
What time of year should I have new siding installed?
Vinyl siding can be installed any time of year, as your schedule and budget permit. However, some contractors are more available during the off-seasons. Whenever you have your new siding installed, you will enjoy the immediate benefits of a nicer appearance, and you will enjoy the long-term benefits of durability and easy maintenance!
Will high winds tear off my siding?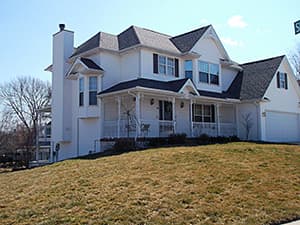 Most vinyl siding is rated for winds up to 110 mph, so unless you are hit by a tornado, it should stay intact. If the siding does come off, vinyl siding can be re-installed more easily than other types of siding. Therefore, we generally recommend vinyl siding for the windy and unpredictable weather conditions we get in the St. Charles area.
Even without a tornado, winds can get pretty high, especially in rural areas. Aluminum siding can be dented and dinged by small rocks or sticks thrown about in high winds, but vinyl siding is usually more durable. When dents do happen, it is not as noticeable, since the siding is not painted but impregnated throughout with the color.
However, if your siding is broken or has any holes in it, it should be replaced. Without intact siding, your home is not protected from rain and hail.
Where can I learn more about siding & siding repair?
For more information, feel free to visit the links below:
Contact Our Roofing Company for Answers to All of Your Roofing Questions
At Schneider Roofing and Remodeling, we are always happy to answer any questions you have about our roofing process. To learn more or for answers to your specific questions, contact our roofing company today to speak with one of our friendly representatives.