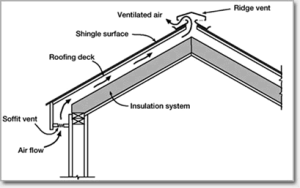 Ventilating your roof reduces the heat in your attic during the summer and helps remove moisture in the winter. This will keep your roof functioning longer and as a bonus, it will make your heating and cooling systems more efficient.
Roof vents allow the hot air to escape from the attic, and it will typically be replaced with cooler air from intake vents. The best location for the intake is the soffit because the coolest air is going to be under the overhangs where it is generally the most shaded. Vented soffits (vinyl or aluminum) are an easy way to bring cool air into your attic to replace the hot summer air being vented out.
Roof ventilation is important to the life of your roof and for your wallet in the long run. If you would like more information about adding roof vents, give us a call (314-378-6623) or send an email.