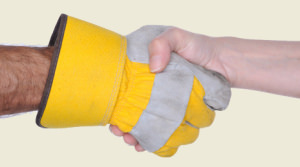 When wind, hail and other extreme weather conditions strike, they can leave homeowners in a vulnerable position. Before you sign with just any roofing contractor, it is important to know your rights according to the law, and how you can find reliable, honest roofing professionals in your area. Below are 12 tips the Roofing and Siding Contractors Alliance provide to help homeowners select a St. Louis roofing contractor that you can trust.
1. Beware of unusually close relationships between insurance adjustors and roofing contractors. If it feels like a collusion situation, it probably is. Insurance adjustors are supposed to appraise the damage to your roof and then hand you the report. From there you have the opportunity to select the contractor of your choice. It is also important to note that contractors cannot make special offers to you in order to get you to sign. According to Missouri law, incentives, deductions, free upgrades, etc. are a form of insurance fraud.
2. Know the warning signs. Remember that storms can be very localized, with some homes in a neighborhood suffering extensive damage while their neighbors are not. Factors like wind direction and roof pitch determine how much damage is sustained, and warning signs like blown shingles, tattered edges, granule loss, dents and holes are a good indication that your roof needs repair. While these warning signs seem obvious, inspectors sometimes miss them. In such cases, a trusted roofing contractor can act as an advocate on your behalf.
3. Make certain the roofer is licensed and bonded. Ask to see the roofing contractors license. Make certain they are bonded, and ask about prior bankruptcies and changes in management.
4. Ask the roofer for references. Follow up with calls to former customers. If they live in your area, you can drive by their house to inspect the roof yourself. Be wary of any contractor who hesitates to provide references, or whose references have complaints.
5. Inquire about the roofer's history. Ask how long the roofer has been in business. Talk to the contractor about past projects that mirror your current situation and needs.
6. Discuss different types of roofing materials. Professional roofing contractors should be willing and able to discuss various types of roofing materials with you, highlighting the advantages and disadvantages of each, including warranty information and life expectancy.
7. Find out whether the roofer plans to tear off or recover your current roof. Ask why they are making that recommendation, and inquire about the additional costs involved.
8. Find out who will be working on your roof. It is important to know whether a roofing contractor uses his or her own employees or sub-contractors. Ask who is in charge, and whether the foreman will remain on-site to supervise the other workers.
9. Discuss both the maufacturer's and the roofer's warranties. Manufacturers and roofing contractors provide different warranties. Ask the roofer how product and installation issues are resolved, in case they should arise with regard to your roof.
10. Obtain a quote in writing. When hiring any type of contractor, it is especially important to get everything in writing. Contracts may be filled with small print and "legalese" and it is important that you read every single word in order to understand exactly how the pay structure will work. It is critical to get a clear idea of the price of the job, and any eventualities that could cause an increase in cost. Compare the prices of roofing candidates, and if one offers an exceedingly low or high price, investigate the reasons for the discrepancy. Note that when a contractor does not feel they are being fairly paid, they may choose to file a mechanic's lien against you, which places the burden on your property and prevents you from selling or making other changes. It is vital to ask for a release of liens before you pay the contractor, and it is especially important to obtain a release as you make your final payment.
11. Cancel within five days of signing a contract. According to Missouri law, homeowners who felt pressured to sign a contract that they weren't comfortable with have five days to cancel. If a contractor tells you otherwise, know that legal action is an option.
12. Check out the RSCA website. This website is an excellent resource for finding outstanding St. Louis roofing contractors. All of the RSCA's members have been in business for a minimum of three years and many are family-owned generations-old commercial and residential roofing contractors. RSCA members are also members of the Better Business Bureau and Angie's List, and many of them have A+ ratings.