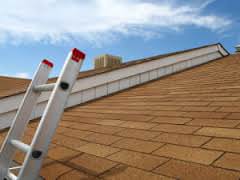 It's easy to take your roof for granted. When it rains, you know that you're not going to get wet. When the hot summer sun shines, you know that you will stay shaded and comfortable. When the wind blows, you don't have to worry about a chill running through your body. However, when a roofing problem appears, it can drastically interrupt your life!
Problem: In some cases, roofing problems can lead to big messes. For example, if you leave town for several days and a leak appears, you're not able to stop the water damage to your home before it's too late. And then there are the slow, small leaks — they can cause water damage in your attic and they can allow mold to grow.
Solution: Everyone's dependence on their roof is why Schneider Roofing and Remodeling recommends having it inspected at least once a year. Believe it or not, over that short period of time your roof can change drastically. Shingles may have fallen off exposing your underlayment. Water may have begun seeping into your attic. Sun may have caused segments of your roof to fry. Anything is possible.
Call us at Schneider Roofing and Remodeling for an inspection. If you've noticed some odd things going on with your roof, this offer is meant especially for you! When your roof is in good shape, it means that it's not interrupting your life and causing you headaches. Dial 314-378-6623 or click here to email us for a comprehensive inspection from Schneider Roofing and Remodeling!