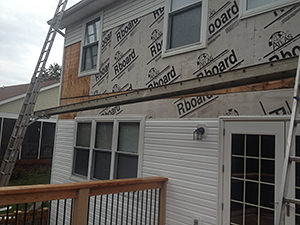 Are you tired of the way your house looks? Thinking of affordable ways to revamp your home? Looking for ways you can make a good first impression on your upcoming house guests? Vinyl siding installation may be the answer to your home improvement problems.
Millions of Americans have chosen and continue to choose vinyl siding as an instant and cost-effective way to upgrade their homes. Vinyl siding can not only improve the look of your home, but it is a low maintenance, durable, and cost effective solution. To learn more and request a quote, call Schneider Roofing & Remodeling, the best siding installation and roofing company in St. Charles.
Benefits of Vinyl Siding Installation
Siding has become a very important exterior fixture in the average American home. In fact, siding installation has been a popular choice for American homeowners since its inception in the 1960s. There are many kinds of exterior sidings to choose from such as cedar, stucco, board and batten, wood, fiber cement, brick, and metal. However, what remains to be a popular favorite among all the other kinds of sidings is vinyl, and with good reason.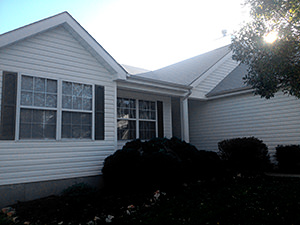 Vinyl siding is lightweight, versatile, cheaper than most siding materials, and requires little to no maintenance. In fact, the only routine maintenance you need to do after a vinyl siding installation is the occasional wash. That means you do not have to go through the hassle and expense of having to repaint or refinish your siding after the painting job has worn off!
You can never underestimate the aesthetic value that a vinyl siding installation brings. With vinyl siding, you can choose from a multitude of colors and a myriad of stunning textures and finishes. It is a natural fit for any traditionally styled homes such as the Cape Cod and the stately Colonial. It also goes well with modern homes that have symmetrical designs.
What Makes Us the Best Siding Installation Contractor in St. Charles
While vinyl siding installation can be a wise investment, not all vinyl siding is created equal. You will need to pick a high quality product that will last you a long time. You will also need the services of a competent and reliable siding contractor, such as Schneider Roofing & Remodeling, in order to ensure that your investment has been properly installed on your home. After all, proper siding installation is key to making the product last for years to come.
That is why you need to look for a contractor that has a proven track record in St. Charles and its neighboring communities. At Schneider Roofing & Remodeling, we offer just that with more than 24 years of experience in the contracting business. We supply only the best quality siding products, and our team of highly qualified siding installers promises to do a great job on the installation of your vinyl siding. Our company has been founded on the principles of excellent workmanship and integrity, and these qualities will surely be reflected in every project we complete.
If you are searching for a reliable siding installation and roofing company, give us a call at 314-378-6623.