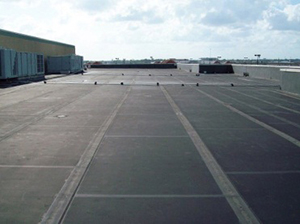 Flat roofing systems can usually be found on extensions, outbuildings, garages, commercial and industrial buildings, and more. They are cost-effective options because they offer fast covering solutions for a flat roof building structure. Flat roofing systems can come in many different forms, from single-ply roof systems, built-up and gravel roof systems, metal roofing, foam roofing, shingle roofing, and even eco-earth roofs.
Schneider Roofing and Remodeling is your expert when it comes to flat roofing services. If you are searching for the best in flat roofing contractors, contact one of the most dependable roofing companies serving the greater St. Charles and St. Louis areas.
Flat Roofing Contractors Providing Comprehensive Services
The services our flat roofing contractors provide encompass all of your flat roofing needs. From new roof installation to repair and maintenance, Schneider Roofing and Remodeling's flat roofing contractors have the expertise to get the job done right the first time.
Some of the services our flat roofing contractors provide include:
New Flat Roof Installation & Flat Roof Replacement – Our flat roofing contractors are adept at providing new flat roof installations for your new construction or re-roofing projects. The flat roof systems we use for new construction and re-roofing applications include:

Thermoplastic Polyolefin (TPO) Roofing Systems
Modified Bitumen Fully Adhered Roof Systems
Ethylene Propylene Diene Monomer (EPDM) Roofing

Flat Roof Repair – We offer expert flat roof repair for all types of flat roofs, whether they are commercial or residential.
Flat Roof Maintenance – We offer flat roof maintenance services to keep your roof in great shape, thereby lowering potential replacement and repair costs.
Why Choose Schneider Roofing and Remodeling as Your Flat Roofing Contractors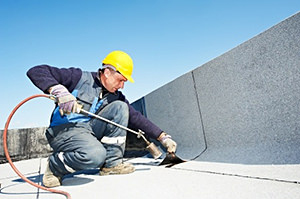 Schneider Roofing and Remodeling is a premier roofing company serving the greater St. Charles area and has been for over 25 years. We are experts in our craft and only provide our customers with the kind of service we would expect for ourselves. We have built up a strong reputation of being St. Charles' leading local, dependable roofing company.
We work with you to fit within a reasonable budget, and our flat roofing contractors provide services that will guarantee your roof is installed properly so that you can have the security of the manufacturer's warranty. We stand by our work, and further offer our own warranty to cover all roofing repairs we make. We are not satisfied with a job unless you are too. Our strong values and dedication to customer satisfaction is reflected in the positive reviews we receive from our customers as well as our A+ rating with the Better Business Bureau.
If you would like more information about flat roofing systems in general, the services our flat roofing contractors can provide, or would like to obtaining a free quote for your project, please contact our roofing company online or via phone at 314-378-6623!