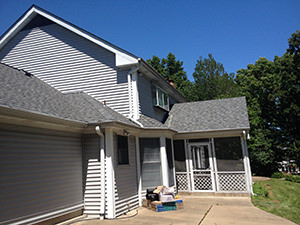 The gutter is one of the most underrated parts of your home even though it plays a vital role in your roofing system. It manages and controls the amount of rainwater that falls off your roof and diverts it away from the house through a downspout in order to preserve the structural stability of your home.
While gutters typically last quite a long time, they do require regular maintenance and cleanup, especially during fall when leaves can quickly accumulate. Unfortunately, most homeowners wait until their gutters are full to the brim with fallen leaves, twigs, pine needles, acorns, shingle granules, dirt, and other debris before cleaning them. This can cause the gutters to clog, rust, and overtime crack or tear away from the house.
If your gutters have become clogged and broken after years of build up and debris, new gutter installation can offer a number of benefits. To learn more about the benefits new gutters can offer and for more about the gutter installation process, contact the experts Schneider Roofing & Remodeling online or by phone at 314-378-6623 today.
Gutter Installation: The Importance of Buying New Gutters for Your St. Charles Home
If your gutters have become old and clogged, installing a quality gutter system will keep your home protected and can minimize the need for repairs, saving you money in the long run. Gutter installation and repair may not be the biggest home improvement project that you can undertake in the grand scheme of things, but you can never underestimate its importance.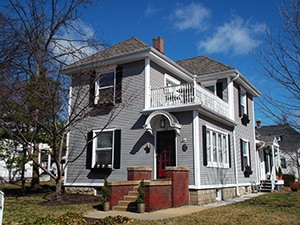 Here are some of the benefits of having new gutters installed on your home:
Prevents water from leaking into the attic and walls of the home
Prevents damage to the structural foundation of the home
Prevents flooding
Prevents soil erosion around the home
Prevents staining and warping of wood siding
Prevents mosquitoes and other insects that love stagnant water from dwelling in or around the home
Prevents termites and other pests that love moisture from infiltrating and breeding in the home
Prevents mold growth
Preserves the landscaping of your front and backyard
Improves the overall curb appeal of your home
Contact Our Gutter Installation Company in St. Charles to Learn More
Schneider Roofing & Remodeling operates on the principles of trustworthiness and transparency. While other contractors may overwhelm you with empty promises, up selling tactics, and highly inflated prices, we do the job you need and deliver the results – it is as simple as that. So if you are looking for a company that will help you with the gutter installation, look no further than Schneider Roofing & Remodeling. We are fully insured and we have been serving the local community of St. Louis and St. Charles for more than 20 years. We can help you with gutter installation by determining which gutter will be the best fit in your home, depending on your budget, your local climate, and the kind of roofing eaves your house has.
Call our gutter installation and roofing company today at 314-378-6623 to get a free, no-obligation consultation!