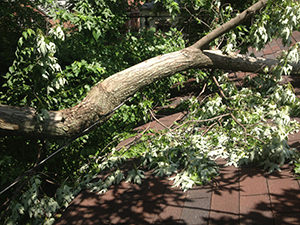 Has your home been recently hit by a bad storm? Has your home sustained roof damage that needs to be fixed immediately? Are you worried about problems that storm damage can cause to your home in the long term?
With the unpredictable and sometimes extreme St. Louis weather, residents have come to expect storms at just about any time of the year. That is why it is important to check your home for roof damage after major storms and to have any damage repaired as quickly as possible to prevent future problems. At Schneider Roofing & Remodeling, we are experts when it comes to diagnosing and repairing roof damage caused by storms and other severe weather.
In St. Louis and St. Charles, call our roofing company today at 314-378-6623 to learn more about repairing roof damage to your home.
How to Spot Roof Damage
In the aftermath of a severe storm, one of the first things you should do right away is check the overall condition of your home. Look for any form of damage that has been left by the storm, especially to the roof, as it usually takes the brunt of the damage.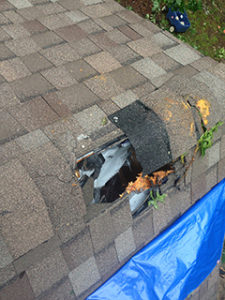 When checking for roof damage, stay safe and avoid hurting yourself by calling a roof damage expert instead of climbing up and checking for damage yourself. A competent roofing contractor should be able to provide a visual assessment of your roof and let you know exactly what the situation is. Here are a couple of indicators that should be considered to determine if your roof has indeed been damaged by the storm.
Broken, cracked, or missing shingles
Bruised asphalt shingles
Granules in the gutter or downspout
Leaks in the attic or ceiling
Water stains on the walls or ceilings
Missing parts of the metal fascia, trim, or gutters
With the constant threat of storms damaging your roof, you need to make sure that any damage is recognized quickly before it has the time to develop into more serious problems. This is where having a roofing company that you can trust with an accurate assessment and thorough repairs becomes crucial.
Hire the Best Roof Damage Repair Company in St. Charles!
If you are not sure that you have roof damage or have questions about the extent of the damage, you can trust the roofing experts at Schneider Roofing in St. Charles to provide a thorough roof inspection. Since signs of roof damage may not always be easy to spot, it is important to get an assessment as soon as possible so you will not forfeit your right to file a homeowners' insurance claim if the results show that your roof was indeed damaged during a storm.
As a leading roofing company, Schneider Roofing has been St. Charles' most trusted roofing contractor for more than two decades. Call us today at 314-378-6623 to speak with one of our friendly experts or to schedule an inspection!