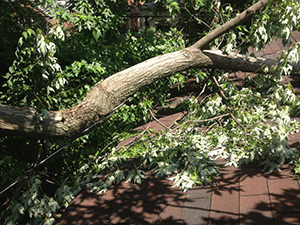 As the frequency of severe storms that bring high winds to St. Charles increases, there is also a rise in the number of homes that will experience damage from these strong winds. If your home has suffered wind damage in a recent storm, it is important to have the damage accessed and repaired as soon as possible. Therefore, you will need the help of a great roofing contractor that you can trust to restore your home to its former glory. With Schneider Roofing & Remodeling, we can help you restore the beauty of your home by repairing your shingles, roof, and siding. To learn more or to request a quote for wind damage repair, call our roofing company today at 314-378-6623!
Types of Wind Damage to Your St. Charles Home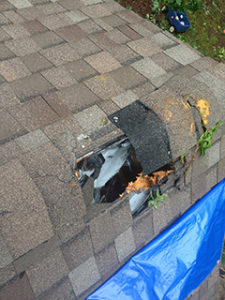 The wind speeds that a severe storm brings can fluctuate and change directions. These swirling winds as well as strong straight-line winds put a lot of pressure on all parts of a home, especially the exterior parts such as the roof and the siding. As a result, strong winds can easily cause all types of damage to your home. Some of this damage may be more severe and obvious, while other damage can be more difficult to spot.
Here are the kinds of wind damage that can wreak havoc in your home:
Severe roof damage: The roof is the most exposed and most vulnerable part of your house during a storm. When the wind is too strong, the connectors and fasteners between the roof and the walls may loosen, causing the roof to blow off then house. Roof damage caused by wind happens due to the "uplift" effect that occurs whenever the air pressure below the roof is greater than the air pressure above. As wind flows all over the building, the air pressure below the roof increases, resulting in an upward force, which will greatly impact a home's roofing system. This can cause roof membranes to separate, especially at the seams and flashings, and can even tear off an entire roof.
Shingle damage: While most modern shingles are designed to be wind-resistant, there are instances when they can still be torn off during extremely windy conditions, especially if they were not nailed properly. Strong winds can also cause the protective granules to fall off the asphalt shingles, making them more vulnerable to future weather disturbances.
Siding damage: Although vinyl siding is durable, it can still be damaged if it is exposed to extremely high winds and severe storms. The siding can split, crack, and even break due to the onslaught of harsh, windy conditions that a storm may bring.
Hire the Best St. Charles Contractor to Repair Wind Damage in Your Home
Storms are nothing new to St. Louis and St. Charles. At any time of the year, we see storms that bring heavy winds and hail, causing wind damage to residential homes. This is why you need to be prepared ahead of time and make sure that you have a roofing company you can trust should damage ever occur. At Schneider Roofing, you can trust us for complete roof and siding inspection, repair, and replacement. Contact our roofing company at 314-378-6623 to learn more about how we can help when it comes to wind damage repair!