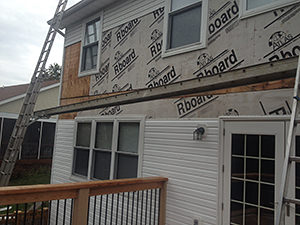 Vinyl siding can provide your home with a cost-effective way to improve its looks and protect it from the natural elements. However, a key to ensuring that your siding lasts for years to come is proper installation. Without this, even top of the line siding can experience problems. That is why you need to hire the best contractors for your vinyl siding installation project.
There are a lot of building contractors in St. Charles, but what makes Schneider Roofing & Remodeling different from the rest is our 100% satisfaction guarantee. While we may not be able to give you the lowest estimate out there, we promise to give you the best value for your money.
With our more than two decades of experience in the contracting business and serving the St. Louis area, you can rest assured that your vinyl siding installation is some of the highest quality on the market.
To learn more about our vinyl siding installation process and what to expect, please contact our siding and roofing company at 314-378-6623.
What to Expect During Your Vinyl Siding Installation Project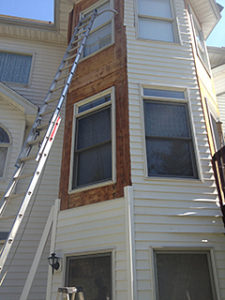 At Schneider Roofing, we are experts when it comes to vinyl siding installation. Therefore, our team takes all of the necessary steps and precautions to ensure your siding is properly installed. Our process includes:
Removing any obstructions: Before the old siding can be removed and new siding installed, any exterior fixtures including light fixtures, window shutters, and downspouts will have to be removed temporarily so that they can be out of the way during the installation process. This will make sure the siding can be installed flush against the house.
Prepping the walls: Surface preparation is critical, so before we begin the installation, we take a good look at what will be under the vinyl siding. This is the perfect opportunity to spot and fix existing issues and improve the exterior surface of the home before we begin the vinyl siding installation. If you think that putting top-of-the-line vinyl over shoddy walls will hide their imperfections, think again. It will only serve to cover, and not solve the problem that lies underneath, resulting in siding problems years down the line. Therefore, we take the time to secure any loose boards and replace any rotting wood if necessary before installation begins.
Adding insulation: For a more energy-efficient home, additional insulating material can be installed first before the actual vinyl siding installation. Aside from its thermal benefits, this also makes the vinyl product more durable because the foam serves as an additional layer of protection for the house.
Contact Us for the Best Vinyl Siding Installation in St. Charles
Siding companies in St. Charles are a dime a dozen, but the Schneider Roofing & Remodeling guarantee and reputation in the home improvement industry is unparalleled. With our years of experience, you are assured that your vinyl siding installation will go smoothly, and we will leave your home just the way we found it, with nothing disturbed and everything intact. To get an initial quote on vinyl siding installation or to learn more, please contact our siding and roofing company at 314-378-6623.