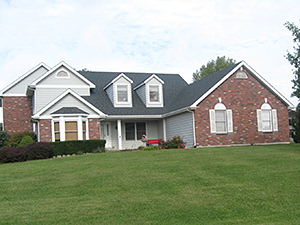 As your siding ages over the years, its exterior walls and siding take a beating against the constant exposure to winds, rains, and other harsh elements of the Missouri weather. If you begin to spot signs of siding damage and you think that your house is due for siding replacement, the experts at Schneider Roofing & Remodeling can help. In St. Louis and St. Charles, please call our siding and roofing company today at 314-378-6623 to learn if siding replacement is right for you.
Signs that Your Home is Due for Siding Replacement
Just like any other material, siding will go through normal wear and tear during the passing of time. It can take a beating from a storm or a heat wave. It can crack and discolor. It can leak. When things like this happen, you may need to consider having it replaced. To help you decide, here are a couple of signs that may indicate that your house is due for siding replacement.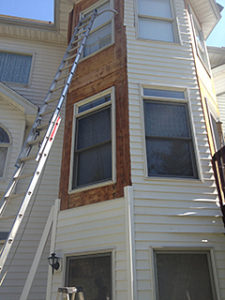 Deterioration: If your current siding is several years old or if you have just experienced harsh weather conditions, you should conduct a visual inspection to see if there are cracks and holes in the panels. If you can spot visual damage, it is likely that you need siding replacement.
Mold and mildew: Check underneath the siding to look for any mold, water damage, or peeling paint. Aging siding can allow the water to seep through, which could damage the exterior walls of your home and make room for mold and mildew to grow.
Warping: Old wood or vinyl siding will contract and expand over time, which can result in brittleness and warping. These things can be signs that you need siding replacement.
Discoloration: As the years go by, the colors on your wood siding will fade, peel, and chip. Instead of having to repaint your siding every couple of years, do yourself a favor and replace it with low maintenance vinyl siding.
Separated seams: If the seams in between your siding panels are coming loose or are pulling apart, you may need to have the siding replaced. In some cases, this can be repaired, but it depends on the extent of the damage.
Poor insulation: Extremely high bills could be an indication that there is something wrong with your exterior walls' insulation. Damaged siding will allow air to come inside your home. If your home is not thoroughly sealed off from the outside, this will result in higher utility bills. Insulated vinyl will be the perfect siding replacement to help keep your energy bills in check, as this comes with thermal insulation to keep your home more energy-efficient.
Outdated appearance: Vinyl siding can give your home a fresh and new appearance. If your old wood siding looks dingy and dated, you may find yourself wanting siding replacement to select a new modern and updated design or color.
Hire the Best Siding Replacement Company in St. Charles
Your home deserves nothing but the best! In St. Louis and St. Charles, hire Schneider Roofing & Remodeling to answer all of your questions about siding replacement and to help you select the right vinyl siding product that will last you for years to come. Contact our siding and roofing company today at 314-378-6623 to get your free estimate!