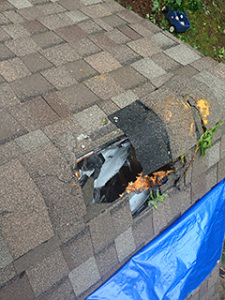 With our location in the middle of the country, Missouri often experiences extreme weather conditions. As such, residents living in the St. Louis and St. Charles areas have come to expect the occasional hailstorm as something that is inevitable. The aftermath of a hailstorm can be disheartening especially when it comes to the roofing and vinyl siding of your home. Even if roof hail damage is not easily visible, it should be a concern after any major hailstorm.
If you suspect damage or want to check just in case following a major storm, contact the experts at Schneider Roofing today. We can evaluate the roof hail damage done to your home, and we will help you restore your roof to its pristine condition. Call our roofing company today at 314-378-6623, and we will walk you through the entire process.
Evaluating Roof Hail Damage in St. Charles
How do you spot roof hail damage? How do you know when it is time to repair and when to replace a roof? Will the roofing costs be covered by your insurance? These kinds of questions all come into play following a storm. At Schneider Roofing & Remodeling, we can help answer these questions and provide the complete range of services you need.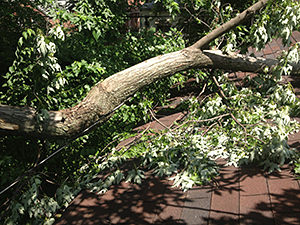 When it comes to roof hail damage, our roofing experts offer the following services to St. Louis and St. Charles residents:
Evaluation of roof hail damage: If hail has recently struck in your area, you need to determine if the shingles on your roof have been damaged. Unfortunately, roof damage is often something you will not be able to fully detect just by looking up from the ground. After all, the damage caused by hail may not be visible right away, but over time, it can become more apparent through leaks and other damage. You should not wait until it makes its presence felt in your home. After a hailstorm, a thorough roof inspection should to be performed by a professional to recognize any issues before they become major problems.
Repair of roof hail damage: If you see any water leaks, missing shingles on the roof, or large dents on your gutters or shingles after a hailstorm, then you will need to have them repaired. Our roof damage repair professionals will not just fix your roof; we will do our best to return it to its condition before the storm happened, or even better.
Complete roof replacement: If the damage to your roof is major or widespread, complete roof replacement may be the best choice. We offer a wide range of roofing options that will fit the architectural style of any home and we can help you select the best new roof.
What to Do if You Suspect Roof Hail Damage in St. Charles
There is more to roof replacement and hail damage repair than just nailing down a couple of shingles. It takes technical skill, first-hand knowledge, and workmanship in order to successfully replace or repair a roof. As with any other home improvement project, it all starts by choosing the right roofing contractors. With Schneider Roofing & Remodeling's more than 20 years of experience in the roofing industry, you know you are in good hands.
To learn more about our roofing company and to get a quote on roof hail damage repair, please contact us at 314-378-6623.