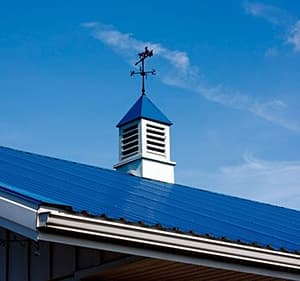 Metal roofs are becoming an increasingly popular choice, and no wonder! They are attractive, easy to maintain, cost-efficient, and, if properly cared for, last indefinitely. If you are considering replacing your shingles with metal, or simply want to get a pre-existing metal roofing back into better-than-new condition, contact our roofing company today. As a roofing company serving the entire St. Charles and St. Louis area, Metal roof installation and repair is one of our specialties.
Benefits of Installing Metal Roofing
Metal roofing is one of the most consumer-friendly choices on the market, primarily because it lasts. A properly maintained metal roof, unlike shingle or tile, can be recoated periodically to restore it to beauty and durability. Therefore, a full roof replacement – and the incurred costs associated with it – can be deferred indefinitely.
Another benefit of installing metal roofing is the beauty it can bring. Metal roofing is available in many different styles and colors to accent any home or building. Beauty combined with durability, makes metal roofing an excellent choice for many.
Metal Roof Installation vs. Repair
If you already have a metal roof, and think you need roof replacement, think again. In most cases, an experienced metal roof installation and repair company such as Schneider Roofing and Remodeling can get your roof back into shape in no time, without the unnecessary expense of a full replacement.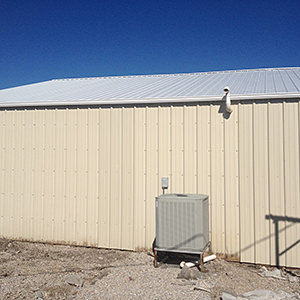 Many customers with aging metal roofs falsely believe that they are inefficient choices for heating and cooling a home – and, with an unsealed or poorly sealed roof, this can be the case. However, we offer custom roof coatings for your metal roofing installation, whether new or old, which can greatly increase your home's efficiency. For example, we offer coatings using Elastek® elastomeric roof coatings, which have been thoroughly field-tested for effectiveness and value.
In addition to Elastek®, we also offer a wide range of surface treatments designed for old and new metal roofing installations. With so many options available, it is particularly important to consult a knowledgeable metal roof installation company before making any choices. At Schneider Roofing and Remodeling, we recommend coating over zinc, zincalume, galvalume, and factory-applied paint finishes. This extra step will drastically improve the efficiency and extend the life of your roof, saving you money in the long run.
Why Choose Us For Your Metal Roof Installation & Repair?
Just because you are working with an experienced roofing contractor does not mean that they have experience with metal roof installation or repair. There are several different types of metal roofing available, including: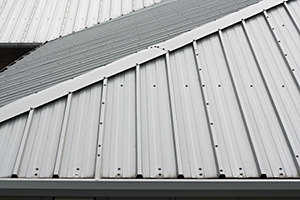 Some materials will be better suited to your home than others; so any metal roof installation choices need to be made with an eye not only towards aesthetics, but also the structure being worked on (particularly the roof's pitch). Metal roof experts will be able to provide the advice you need and help you make the best choices. Even if the metal roof is only being repaired, particular care must be taken to ensure that your roof is cared for and treated properly to prolong its life as much as possible.
When you call Schneider Roofing and Remodeling, we will send out one of our specially trained and experienced technicians who can listen to your concerns and properly diagnose any possible problems with your metal roofing. Our 20-Point Roof Inspection will provide you with a thorough understanding of the condition of your roof, and help you determine what repairs you may need. And because we offer a 100% Satisfaction Guarantee, you never have to worry about investing money in your roof, only to turn around and find that the repairs you thought you received need to be re-done.
To learn more about our comprehensive metal roof installation and repair services and how we can help, contact our roofing company today.