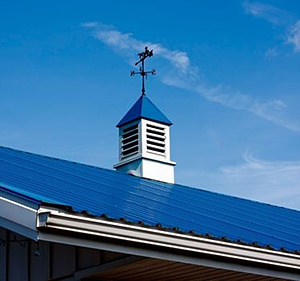 Keeping in line with the flexibility offered by metal roofing in general, metal roof cost can be just as dynamic, depending on many variables from the intricacy of their design, to the condition of the building's current roofing system. With the many different considerations in mind, metal roofing costs can vary between $125 to $1100 per roofing square. Below, we break down some of the considerations when determining your total metal roof cost.
If you are considering adding a metal roof to your home or commercial building, give us a call at Schneider Roofing today! We are the premier roofing company serving the St. Charles area, and will happily give you a free quote detailing the cost of your metal roof project.
Factors Determining Your Metal Roof Cost
First, it is important to remember there is more than just material pricing involved in any metal roof cost. Generally, you can look at it like this: Cost of material per square + waste including details + shipping + labor = total metal roof cost.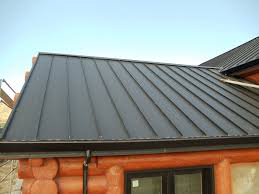 Some of the factors that go into the total metal roof cost are:
Material – This one is usually the most obvious consideration. However, the actual material cost is only the beginning of what goes into pricing a metal roof project.
Labor – The final cost of labor depends on the nature of the job itself. For example, if your current roof's substructure is in a good condition, that enables us to install the new metal roof on top of the existing structure. This saves time, which of course, saves money. The intricacy and the size of the project also factor into labor costs.
Transportation/Shipping – Depending on your location, the transportation of the materials may be another factor that comes into play in your total metal roof cost.
Disposal – The disposal of the current roofing materials, as well as any waste created from new materials must also be considered. You may also have to factor in the cost of abating any potentially hazardous environmental issues such as the existence of asbestos-laden material.
Access – The ease of access to your roof may impact the cost of the job as well. For example, if your house is on uneven terrain, we may have to build scaffolding structures to access particular areas of the roof.
Extras – You may also have to factor in some extra costs when considering a new metal roof. For example, your municipality may require special construction permits. Or, the removal of trees or overhanging branches obstructing the work may be a requirement to complete the job.
Contact Us About Your Metal Roof Cost
With light maintenance requirements, long lasting durability, versatility, and the potential for energy savings, metal roofs are a beautiful and practical choice for roofing systems both residentially and commercially.
If you are interested in learning more about metal roofing, or you would like a free quote for your metal roof cost, contact our St. Charles roofing company today. Schneider Roofing and Remodeling is a proud St. Charles establishment serving the area for over 20 years, and we are here to answer any of your questions regarding metal roof cost or metal roofing in general!