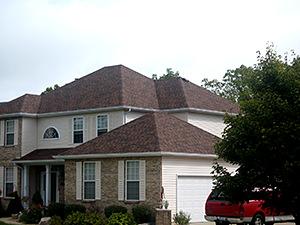 Are you in the market for an updated look for your home's exterior and want to do more than landscaping? New vinyl siding may be the solution you are looking for! At Schneider Roofing and Remodeling, we are more than just a roofing company. Indeed, we are expert Ladue siding contractors as well! We provide exceptional siding installation as well as repairs for any type of siding you may have.
If you would like more information about our siding services or want to discuss the vinyl siding project you have in mind, contact our roofing company online or by phone at 314-378-6623.
You can speak with one of our Ladue siding contractors today with any questions you might have about your siding repair or the options available for your siding replacement!
Vinyl Siding Delivers Ladue a Functional and Beautiful Siding Solution
Vinyl siding is a perfect solution to your siding woes. If you are looking for a way to strengthen your home's curb appeal, while creating a look that you can call your own, search no further. Our Ladue siding contractors can review the different vinyl siding choices we offer to help you design the exact look you are hoping for. From a variety of beautiful colors and tones available, to the array of siding styles we have, our vinyl siding options have the perfect fit for your home. However, the benefits of vinyl siding do not stop on the surface. In fact, there are several more benefits to vinyl siding.
Further reasons our Ladue siding contractors recommend vinyl siding installation services include:
Cost – Vinyl siding is a cost-effective siding option that will last for years to come.
Maintenance – Vinyl siding is a simple-to-maintain siding option. Often it can just boil down to a heavy rainfall to free your home's surface from dirt and debris. If spots get missed, you can usually just spray them down with the garden hose.
Energy Efficiency – Vinyl siding offers the ability to create additional layers of insulation for your home. In fact, our Ladue siding contractors often recommend adding a complete house wrap to any home before fitting the siding. This serves as further protection from the elements, keeping you cooler in the summer and warmer in the winter.
Choosing Schneider Roofing and Remodeling to be Your Ladue Siding Contractors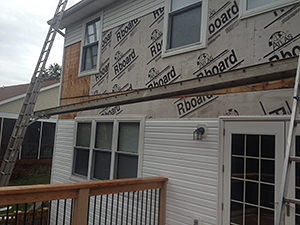 We know we are the right company for the job. Let us tell you why! At Schneider Roofing and Remodeling, we have been providing Ladue siding contractor services for over 25 years. Our neighbors are your neighbors, and we are completely invested in serving the local community. While we maintain an A+ rating with the Better Business Bureau, we get most of our validation from the lists of positive reviews left by our past satisfied customers. You will benefit from our years of experience in the field, and our confident use of the materials we employ.
Learn More About Our Ladue Siding Contractor Services
To learn more about the services our Ladue siding contractors provide, contact our roofing company online or by phone at 314-378-6623. You can speak with a Ladue siding contractor specialist to answer any questions you may have or to request a quote for the siding project you have in mind for your home!