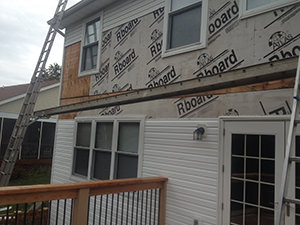 Siding is usually installed to protect your home from harsh weather conditions. It is typically made of tough material, but over time, it can become vulnerable and prone to damage. If you experience any extreme storms or harsh weather conditions, it is important to check the exteriors of your house for siding damage immediately following a storm to recognize any problems and get the repairs done as soon as possible.
If you suspect that your house has siding damage, you should get in touch with a reliable siding contractor in near you. In St. Charles and the entire St. Louis area, look no further than Schneider Roofing & Remodeling. We have been in business for more than two decades, and we provide accurate siding inspection and siding repair services. If you are interested in our siding repair services or would like to learn more, please contact our siding and roofing company today at 314-378-6623 for a free quote.
 Recognizing Siding Damage
Siding damage caused by a storm can come in many shapes and forms. Siding boards can become detached and bow. Nails used to install the panels can pop out. Seams can split and spread. Loose pieces of clapboard can split wide open. If undetected and unrepaired, this damage can cause your siding to deteriorate faster and can lead to water and moisture leakage within the walls, putting the security and comfort inside the home in jeopardy. Siding damage can also prove to be quite unsightly and from a real estate point of view, it could bring the price of your home down significantly.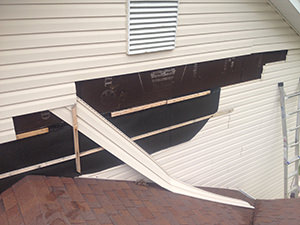 After a major storm has passed, you should check the exterior walls of your house for siding damage, which can come in the form of:
Dents and cracks – These kinds of siding damage are usually located in between the ridges and valleys of the siding panels. While a simple dent in the siding may not be a major problem at first, it could give way to a crack over time, which is much harder to repair and could necessitate the need siding replacement.
Chips – These are small pieces of siding that have broken and fallen off the siding. Look for chipped pieces of siding by climbing up a ladder and viewing the siding from various angles.
Holes – Severe storms that produce large hail can punch through siding creating holes that can easily let in water and insects. Inspect your siding closely to check for small and large holes.
Hiring a Reliable Siding Damage Repair Contractor in St. Charles
Your home is one of the biggest investments you will make in your life, and you should do all that it takes to keep it safe and secure. As one of St. Charles' most reliable contracting companies, we can help you improve your home by repairing any siding damage caused by a storm. If the siding damage done to your house is beyond repair, we can also do a complete vinyl siding replacement using new siding materials that are significantly more durable and can withstand the most severe of storms.
Contact our siding and roofing company today at 314-378-6623 to get a free estimate and to learn more about the siding repair services we offer.