Do you have a hard-to-find, persistent leak in your flat roof? Tired of paying excessively for minor flat roof repairs that ultimately do not take, or seem to make no difference at all? Schneider Roofing & Remodeling is here to help.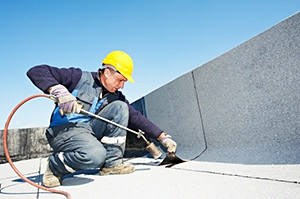 Commercial property managers are well aware of the particular problems posed by flat roof construction and deterioration. Residential homeowners with flat roofs may be aware of the problems, but may not be aware of particular structural challenges posed by this style of roof. Fortunately, our roofing technicians have extensive experience in flat roofing repair and are particularly well qualified to help. Leak detection, repair, and prevention is our specialty. More importantly, we offer a 100% satisfaction guarantee on all of our services, so you can rest easy knowing that you have made a smart investment.
To learn more about our roofing repair and installation services for flat roofs or to request an inspection from our experts, contact our roofing company today.
Comprehensive Flat Roof Repair and Installation Services
Our new construction and re-roofing applications include:
Thermoplastic Polyolefin (TPO) Roofing Systems
Spray Polyurethane Foam (SPF) Roofing
Modified Bitumen Fully Adhered Roof Systems
Plus, we offer expert repair and maintenance solutions for all types of flat roofs (residential and commercial), including:
All Single-Ply Roof Systems (TPO, PVC, Modified Bitumen, etc)
Built-Up and Gravel Roof Systems
Metal Roofs
Foam Roofs
Shingle Roofs
Providing the Best in Flat Roofing Repair Solutions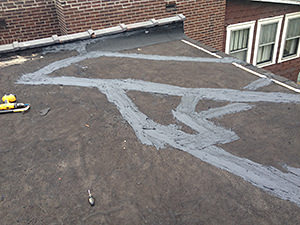 One of the main issues that we encounter with our flat roof repair clients is leaking caused by flashing surrounding roof-penetrating installations, such as HVAC units. Properly installed flashing will seal these penetrations and leave your roof completely watertight. Our experienced flat roof repair specialists will check for any number of common issues, such as loose perimeter flashings, weak seals surrounding roof projections, ponding water, inconsistent or inadequate slopes, clogged drains, faulty roof curbs, and more. Once we have identified the problem, our flat roofing repair specialist will help you develop an economically sound, effective repair and maintenance plan – one that is designed to save you money, not line our pockets.
Though most of our flat roofing repair customers are commercial clients – property managers, restaurateurs, gas station owners, etc. – we also offer several specialized roof repair solutions for our residential customers with flat roofs. For all of our St. Charles area customers, Schneider Roofing and Remodeling guarantees the same reliable service. We will diagnose the source of any leaks or issues and will provide solutions to repair your roof. We also offer regular maintenance programs that can detect and avert potentially expensive problems before they arise.
Contact Us for Your Next Flat Roof Repair Project
As a trusted flat roof repair company for many homeowners and businesses throughout the St. Charles area, we place an emphasis on customer satisfaction. Our A+ Better Business Bureau rating speaks for itself, but, if you want to know more, check out some of the reviews from our thousands of satisfied local customers.
To learn more about our services or to request a roof inspection, contact our roofing company today online or by phone at 314-378-6623 to speak with one of our specialists.