Though vinyl siding is known for its durability, every once in a while Mother Nature throws a curveball. High winds and hail can damage your siding, leaving you with unsightly loose paneling and exposed insulation. Fortunately, Schneider Roofing and Remodeling is can help with all your vinyl siding repair needs.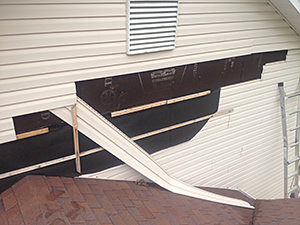 The three most common types of vinyl siding repair jobs we see include the repair of cracked panels, chipping, and holes gouged in the material from impacts with hail and other debris. These may seem like easy DIY fixes, but with siding repairs attempted by those other than licensed siding contractors, you run the risk of invalidating your manufacturer's warranty or homeowners' insurance policy. Therefore, all siding repairs are best handled by the professionals.
To learn more about how we can help, contact our St. Louis siding repair and roofing company today online or by phone at 314-378-6623.
Vinyl Siding Repair: How Siding Damage Happens
Vinyl siding is one of the hardiest, most weather-resistant finishes on the market. Unfortunately, once damage is done, the elements begin to work against you. High winds push and pull loose panels in different directions, creating a kind of 'peeling' effect. As the winds creep under the loose paneling, they gradually pull compromised pieces further and further off of the house, damaging fastenings, underlying insulation, and weather-sealed liners in the process.
Vinyl Siding Repair: What To Do When Damage Occurs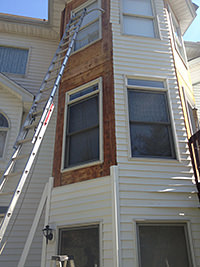 The most important thing to know about siding repair is that it is crucial to address damage as quickly as possible. Minor cracks and chips can be sealed, but if the vinyl siding begins to pull away from the house, it can bend and warp. This may damage the panel beyond repair and can necessitate a replacement. Additionally, it will slowly pull other panels away from their fastenings, causing the damage to spread throughout the siding and possibly even compromising the underlying wrap or insulation.
Having a certified siding repair contractor out to inspect and repair the damage as soon as possible is your best bet when it comes to minimizing damage and saving money.
Call Schneider Roofing & Remodeling for Your Siding Repair Needs
At Schneider Roofing and Remodeling, we have been serving clients throughout the St. Charles area for over 24 years. Our reputation for a leading roof and siding repair company is hard-won, one job at a time, and we are proud of it. With thousands of satisfied customers, and an A+ rating from the Better Business Bureau, we are one of the most trusted local names, not just in roof repair, but in siding repair as well. We deliver on our promises and back that up with a 100% Satisfaction Guarantee. That means no matter how large or small the repair, if it is not done right the first time, we will come out and make it right.
For siding repair services in St. Charles or to learn more about any of our services available, contact our siding and roofing company today!