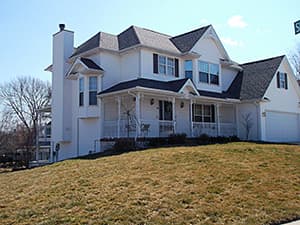 Located in St. Charles, Schneider Roofing and Remodeling serves customers throughout St. Charles (city and county), O'Fallon, St. Peters, Wentzvile, and Lake St. Louis with high quality roofing services. We are not one of those fly-by-night roofing companies, who are here today and gone tomorrow. Rather, we are family owned, and we have been living and working in St. Charles for over 20 years.
Our Pledge: Our roofing company is founded on a pledge to promise only what we can provide, and provide what we promise. Your complete satisfaction is always our goal, and that is why we offer a 100% satisfaction guarantee, and so much more.
A Step Above Other Roofing Companies: Our 100% Satisfaction Guarantee
When we work on your roof, we will use only the highest-quality products, installed by professionally trained roofing contractors. We will work hard to offer you the most affordable roof repair or replacement services possible, and, unlike some St. Louis roofing companies, we will never recommend unnecessary services or products. Because our roofing company is based locally here in St. Charles, our focus is on creating long-term relationships with our clients – that is why we will never try to upsell you, or talk you into a full roof replacement when cost-effective repairs are an option. Our experienced roofing experts will walk you through the relevant issues, and thoroughly explain the reasoning behind each recommendation, with details about options and upgrades. You can rest assured, if we say we can do it, we will not quit working until it is done.
Our 10-Year Premium Labor Guarantee
When you hire us to replace your roof, we promise to do it correctly, the first time. Many roofing companies will not tell you this, but incorrect installation can void your manufacturer's warranty. That is why it is critical to research roofing companies thoroughly, and only work with licensed, experienced contractors. Because we only hire the best, you can rest easy, knowing that our highly trained employees will provide only the highest quality work. Plus, in the unlikely event that we do make a mistake, we will make any necessary repairs at no cost to you, for up to 10 years from the date of installation.
Our 10-Year Non-Pro-Rated Material Guarantee
With 20+ years in the business, we are one of the oldest roofing companies in St. Charles, and we know our business inside and out. All of the materials that we use for any project are tried and field tested, and we are proud to pass the benefits of our experience on to our customers. Should you run into any problems with the manufacturer's warranty, we will take full responsibility for any material defect for 10 years from the date of installation. This extra layer of protection is one of the things that sets us apart from other roofing companies, and ensures our continued reputation as one of the leading roofing companies in St. Charles and beyond.
Our Repair Plus Guarantee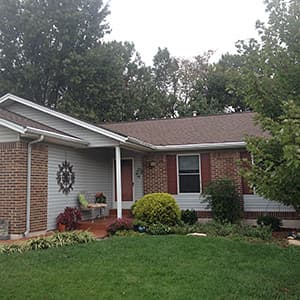 Another way Schneider stands out from the pack of roofing companies is this that we promise that all repairs will be fixed right the first time. All of our repairs are guaranteed to last through the season and beyond. For 1 full year from the date of your repair, we offer a no-hassle, full material guarantee. That means that if your repair fails, we will come out and fix it – absolutely free.
The Limited Lifetime Roof System Guarantee
If you are considering a full roof replacement, our roofing company can help make sure that your new roof is warrantied for a full 50 years. This warranty is provided by the manufacturer, but can easily be invalidated via shoddy installation by inexperienced or unreliable roofing companies. If you choose to work with us, we promise that our knowledgeable roofing contractors will work with you to make sure you are able to take full advantage of the protections to which you are entitled.
Our Lowest Investment Guarantee
The old saying is that "you get what you pay for", and roof repair is no exception. We may not be able to provide you with the lowest roofing estimate out there, but we guarantee that when you work with us, you will get the most for your money. Our A+ BBB rating backs this up, as do the hundreds of positive customer reviews of our roofing company. Do not waste your time or money with someone else, contact the most trusted name in local roofing companies and take advantage of our fair pricing guarantee.