There are a lot of choices when it comes to siding products. While money is usually the deciding factor, there are other things to consider when buying vinyl siding for your home. Style, color, and texture are just some of the components that will affect your decision. The myriad siding options may seem overwhelming at first, but with the help of a contractor, you will be able to choose the vinyl siding that will best fit your home.
Let the experts at Schneider Roofing & Remodeling guide you through the vinyl siding buying process. All you have to do is call our siding and roofing company at 314-378-6623 to get started!
How to Buy the Best Vinyl Siding
There are a lot of factors that come into play when choosing the best vinyl siding for your home, but the process need not be complicated. Here are a few things you need to consider when buying vinyl siding: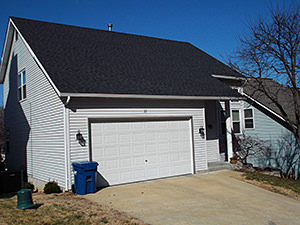 Style – The most common horizontal vinyl siding styles are the traditional clapboard, Dutch lap, and beaded. On the other hand, the most popular choice when it comes to vertical vinyl siding is the board and batten. Shakes and shingles are great for the roof or accent areas, while scallops are great accents for gabled walls. With vinyl siding, you can mix and match different styles in order to come up with the perfect siding for your home. That means you do not have to be stuck using only one kind of siding when there are so many to choose from.
Color – When it comes to choosing the color of your vinyl siding, you can choose from light pastel colors to rich earthy hues. The color possibilities are endless. Ultimately, your color choice will depend on your personal tastes and the style of your home.
Texture – Texture is also important because it adds more personality to the vinyl siding. It also makes the appearance of simulated wood more realistic-looking. You can choose from a wide variety of textures in your vinyl siding such as a smoothly sanded wood grain or a rugged-looking, freshly sawn cedar.
Cost – Ultimately, cost is a determining factor in any siding installation project. For example, vinyl grade, or the thickness of the siding, will greatly affect the overall cost of the product. Premium vinyl will cost a lot more than builder's grade vinyl, but it typically offers a more durable and lasting product. Additionally, the surface area and layout of your home will also factor in to the total cost. If there is a lot of surface area to cover and there are more complex shapes, then the cost will be higher. Aside from the siding, there are also other materials that might be included in the installation, such as soffit, fascia, and crown molding. Make sure that all of these things are included in the estimate when you and your contractor are discussing the pricing.
Hire the Best Vinyl Siding Company in St. Charles
If your home is in need of a major face-lift but you do not have a lot set aside for home improvement projects, do not worry! Vinyl siding installation can do wonders for your home without breaking the bank. In St. Louis and St. Charles, contact our siding and roofing company at 314-378-6623 to get your free quote today and for help selecting the best siding for your home!