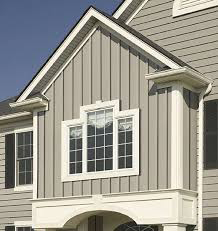 Vertical siding is a type of vinyl siding commonly found on industrial buildings as well as commercial and retail, with a particular focus on the industrial and commercial sector. It is especially useful for these sectors due to its ability to provide steel frame structures fast, yet efficient coverage. However, its use as a residential option due to the aesthetics it provides is also increasingly popular with homeowners today.
If you would like to learn more about vertical siding and are considering this as a potential option for your siding needs, contact our roofing company online or via telephone at 314-378-6623 today! Schneider Roofing and Remodeling goes well beyond roofing, and is an expert in our field, satisfying St. Charles' siding needs for over 25 years.
Benefits of Vertical Siding for Your Vinyl Siding Choice
Vertical siding can be a stunning option for a home's siding project or a traditional pick for a commercial, retail, or industrial building. Vertical siding is also a versatile aesthetic, fit for use with just about any structured building in the greater St. Louis area.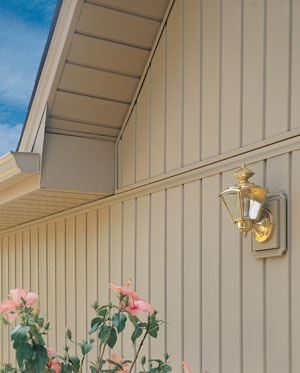 Some of the striking benefits and aspects of vinyl vertical siding include:
Aesthetics – The stylish look of vertical siding may be enough to convince you as it can certainly add a significant charge to the visual aspect of your residence or business. Vertical siding offers a contemporary look, with clean lines that will carry through trends over time.
Versatility – Vinyl siding offers various mock textures and a variety of colors from which to choose when deciding how you wish to cover the side of your house or business.
Weather Resistance – Vinyl siding is durable and can last quite a while under normal weather conditions.
Cost – Vinyl siding often proves to be a very cost-effective choice for siding needs, with prices matching the range in durability and quality of the available materials.
Low Maintenance – Vinyl siding is a relatively easy maintenance choice, requiring no painting. It is just recommended that is receives an annual cleaning.
Why Choose Schneider Roofing and Remodeling to Install Your Vertical Siding?
Schneider Roofing and Remodeling is a proud St. Charles company, with over 25 years of experience in the industry. We provide both the St. Charles and the greater St. Louis areas with vertical siding expertise, using only methods and materials that we have tested and approved. We will install your vertical siding with precision and efficiency, making sure it falls within any manufacturers' warranty specifications. We stand behind our work, leaving room for only professionally completed jobs wherein our customers are 100% satisfied. In fact, we guarantee it!
Learn More About Vertical Siding as Your Siding Solution
If you would like to discuss vertical siding options for your home or business, or you are interested in receiving a free quote, contact our roofing company online or via telephone at 314-378-6623. One of our vertical siding specialists will be available to answer any questions and address any concerns you might have regarding vinyl vertical siding as the solution to your building's siding needs.