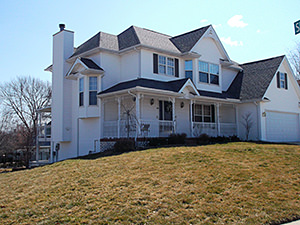 It is not easy to spot the warning signs of roof damage, especially if you do not know what you are looking for in the first place. Leaks and water spots on the ceiling are easy enough to spot, but what about damaged flashing and missing shingles? These are things that only a professional roofing contractor can spot and handle head-on.
If you are looking for a Town and Country roofing company, our team of highly qualified roofers are more than able to do the job! In order to get started, simply fill out our online form or call our Town and Country roofing company at 314-378-6623 to get a free estimate from one of our roofing experts.
Why Hire Us for Your Town and Country Roofing Needs
Even the smallest sign of roof damage, such as a ceiling that is leaking after a storm, can compromise the structural integrity of your roof. Even a strong and durable roof can fall victim to severe storms, strong winds, and fallen trees. If you suspect roof damage or you think it might be time for roof replacement, it is recommended that you have your roof inspected right away by a Town and Country roofing contractor—and nobody does it better than Schneider Roofing & Remodeling!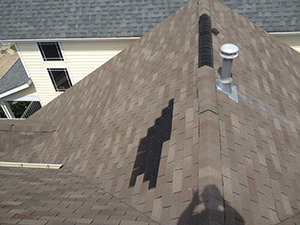 Here is what sets us apart among the other Town and Country roofing contractors:
We have the experience: Over two decades of putting up roofs all over Missouri is no small feat. Over the years, we have become skilled at what we do, and this can be clearly seen by the glowing reviews our roofing company has received from past satisfied clients.
We are fully insured: We carry general liability and workers' compensation insurance to protect both your home and our workers. This means you will not be held liable in the event an accident happens or a contractor is injured while on the job.
We offer a wide variety of roofing solutions to cater to every situation: We provide roof inspections, installations, repairs, and replacements. We also offer emergency roofing services and roofing financing to help get your roofing project underway.
The price is just right: While we cannot guarantee you the lowest price, what we can guarantee you is the quality of the labor and material. This gives you the best value for your money because your newly repaired or replaced roof will stand the test of time.
All work is guaranteed: We are so confident about the quality of our output that we offer a 10-year premium labor warranty on installations, giving your Town and Country roofing investment protection in the years to come.
Learn More About the Best Town and Country Roofing Company
Schneider Roofing & Remodeling provides quality residential roofing solutions in Town and Country as well as its neighboring communities. We will work quickly and efficiently to provide you with a hassle-free experience, making sure that your household routine is not affected. No matter how small or big the Town and Country roofing job is, choose Schneider to receive high quality roofing at a competitive price.
Reliable roof repair or roof replacement is just a phone call away. Get immediate help by calling our Town and Country roofing company now at 314-378-6623!