With tornado season right around the corner, a question you might want to ask yourself is, "Does my homeowner's insurance cover all tornado related damage?"
The answer is NO. While the image of a tornado striking a residential home may be of a swirling wind tunnel ripping off a roof, tornadoes can cause all sorts of damage to your property – from water damage to uprooted trees.
So What Is and Isn't Covered?
What's important for homeowners to be aware of is that a typical homeowners insurance policy does NOT cover the following:
* flooding
* uprooted trees strewn on property
* food that has spoiled because of a power outage
What Defines a Flood?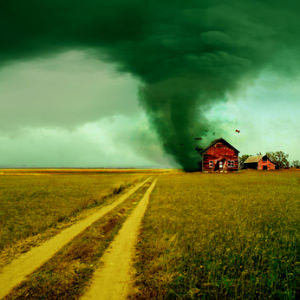 In order for water damage to be considered a "flood" and therefore, not covered by homeowners insurance, the water has to have hit the ground before entering your home. Consider this scenario: Your neighbor's pipes burst during a tornado. Your house, sitting downstream from your neighbor's house, is flooded from the ground. Because the water came into your house from the ground, it's considered a flood, and the resulting damage won't be covered by your homeowners insurance. For this, you need a separate flood insurance policy.
If, however, a tornado damages your windows and roof and then a rain storm dumps water into your house the next day, your homeowners insurance will cover this because the water entered your home before touching the ground.
Uprooted Trees
Some tornadoes are strong enough to uproot trees. If this happens on your property, your homeowners insurance will not cover the removal of the trees. If, however, an uprooted tree falls on your house, the damage to your house, along with the tree removal, will be covered by your homeowners insurance.
Rotten Food
Power outages are more common during tornado season and food can begin spoiling within just a few hours. Unfortunately, homeowners insurance does not cover rotten food in the refrigerator and freezer so you'll have to determine what and when to save and what and when to start throwing stuff out.
If you keep the refrigerator door closed as much as possible, much of your food can last up to 4 hours. However, if perishables such as raw fish, meat, poultry, or eggs sit for over 2 hours at 40 F or more, throw them out. The same rule goes for milk products and baby formula.
What Should My Insurance Policy Cover?
Depending on your insurance policy, tornado coverage may fall under the category of "windstorm." This is a broader category that can include hurricanes as well as tornadoes. In general terms, your homeowners insurance policy should cover losses caused by a tornado, a.k.a windstorm. This includes damage caused to your home and property and the loss or damage of personal property, such as furniture.
While the best case scenario is that you'll never have to file a homeowners insurance claim as a result of a tornado, it's important to be prepared and knowledgeable about what is and isn't covered by a basic homeowners policy before the damage is already done.