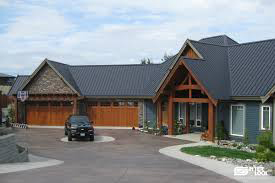 A standing seam metal roof is one of the most common types of metal roofing systems used today. This roof system is most often used on commercial and industrial buildings, but is becoming more common on residential homes. Standing seam metal roofing systems have a modern and minimalistic appearance, which is what lends them so well to their versatile application. Metal roofs have the added diverse effect of color, and can be painted to fit whatever color aesthetic is desired.
They can even contribute to energy efficiency if painted a lighter color because it results in less heat being absorbed by the roof on sunny days, which is great for reducing air conditioning expenses! With proper maintenance, these roofs can last up to 50 years.
Schneider Roofing and Remodeling is your St. Charles expert when it comes to standing seam metal roof installation. Our technicians are skilled and dedicated to their craft. When it comes to installing a standing seam metal roof, we have the experience and fortitude to get the job done right. We have been installing roofing systems in the area for over 25 years. Contact our roofing company today for your free quote!
Why Choose Schneider Roofing and Remodeling for Standing Seam Metal Roof Installation?
At Schneider Roofing and Remodeling, we value our clients and take each job personally. We are a family owned and operated business, whose community is the same as our customers'. We have worked hard to earn our reputation as a leading roofing company.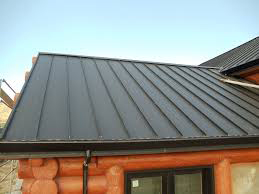 Some of the aspects that set us apart when it comes to providing roofing across the greater St. Charles area are:
100% Satisfaction Guarantee – We were founded on a pledge to deliver what we promised. Therefore, we guarantee 100% satisfaction on our projects.
10-Year Premium Labor Guarantee – We have the expertise to install your standing seam metal roof correctly, and will correct any errors we have made in the unlikely event that occurs. This protects you when it comes to your manufacturer's warranty as well.
10-Year Non-Pro-Rated Material Guarantee – We take responsibility for the material we use on our standing seam metal roof installations, and will continue to do so for 10 years from the date we put the roof on. Should you run into issues with your manufacturer's warranty, you can lean on us.
Repair Plus Guarantee – We guarantee any repairs we make to your standing seam metal roof for one full year. Should anything go wrong, we will come make it right, hassle-free.
Limited Lifetime Roof System Guarantee – We will work to make sure you will be able to take advantage of the full 50 year guarantee your standing seam metal roof manufacturer will provide for your new roof.
Lowest Investment Guarantee – We offer a fair pricing guarantee, in which our customers get the most for their money.
Interested in More Information on Installing a Standing Seam Metal Roof?
Call Schneider Roofing and Remodeling today! We are here to answer all of St. Charles roofing calls and answer any questions you may have about your standing seam metal roof project. We have a head for the work and a heart for our customers. For your free, no obligation quote, contact our roofing company today!