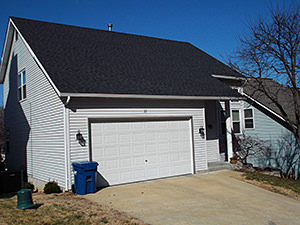 Your home's siding has two main functions: to provide both protection and visual appeal to a home. Gone are the days when the only option for homeowners is to install wood siding on their home. Recent developments in the PVC industry has made synthetic vinyl siding one of the most popular options for St. Louis area homes. Vinyl is sustainable, lightweight, low-maintenance, fade-resistant, and the least expensive among siding materials, making it the siding material of choice for most St. Louis siding contractors and American homeowners. Its availability in a wide range of colors and textures has made it a favorite exterior fixture as well.
If you are a homeowner looking for St. Louis siding contractors to repair or install siding on your home, Schneider Roofing & Remodeling can help. We are a family-owned and locally operated roofing business that has been serving the St. Louis community for over 24 years. If you want to instantly update the look of your home, repair broken siding, or simply add a maintenance free siding solution to your home, just give our roofing company a call at 314-378-6623 to get a free quote!
What We Have to Offer as a St. Louis Siding Contractor
As one of the leading St. Louis siding contractors, here are just a few of the services we have to offer:
Siding installation – We make sure that your vinyl siding, soffit, insulation, trim details, and any other accessories are properly installed, ensuring that the product will give your home a distinctive look that will last you a lifetime. And with our 10-year premium labor guarantee, you are assured that any installation mistake—although highly unlikely—will be repaired at no extra cost by our expert St. Louis siding contractors.
Siding repair – Strong winds and hailstorms can cause damage to your siding. In the aftermath of a storm, hail, or tornado, we can send over a highly qualified St. Louis siding contractor in order to inspect and repair your vinyl siding, in order to prevent the damage from worsening. 
Siding replacement – The constant exposure to the natural elements can take its toll on your home's siding over time. Your siding—especially if made of wood—will naturally deteriorate, just like any other housing material. On the other hand, maybe you just want an updated look for your house with low-maintenance vinyl siding. Whatever the case may be, our St. Louis siding contractors can replace your old siding with new vinyl siding. We will help you select the product that is best for your needs considering your home and your budget.
Hire the Best St. Louis Siding Contractors
Whether you need siding replacement or just a simple repair, Schneider Roofing & Remodeling can help add value to your home by fixing your exteriors and installing, repairing, or replacing your siding. Simply call our roofing company today at 314-378-6623 to talk to a St. Louis siding contractor and get a free, no-obligation quote and consultation!