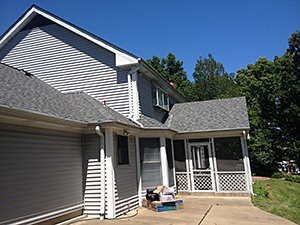 Cracked and missing asphalt shingles, deteriorating shingles, water stains all over a sagging ceiling, signs of mold growth in your attic, high energy bills -The warning signs that you need a new roof can sometimes be easy to spot. However, they are also often easy to ignore.
If your roof has been severely damaged or is nearing the end of its life, then you most likely need roof replacement. While this is something that people often put off, the damage will only worsen exponentially over time. Therefore, it is important to call a professional local roofing contractor as soon as you start to see signs of damage. But who do you choose when there are so many St. Louis roof replacement companies?
When shopping around for a St. Louis roof replacement company, it is important that you find a company that you can trust to provide professional service at a fair price. Schneider Roofing in St. Louis has been  providing roof replacement services in St. Louis for many years and we have become a trusted partner for many local homeowners. To learn more or to request a quote, call our roofing company today at 314-378-6623 or contact us online!
Choosing the Best Company for Roof Replacement in St. Louis
When looking for someone to handle your roof replacement, you need to choose a local roofing company that has a proven track record of serving your local area, such as Schneider Roofing & Remodeling. Our St. Louis roof replacement company will conduct a thorough roof inspection in order to determine if a replacement is needed and will provide you with a reasonable estimate.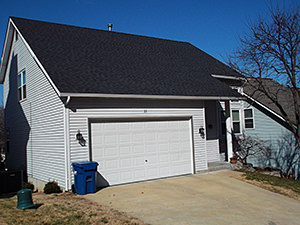 We are experienced at installing new roofs in the St. Louis area, and can help you find the perfect new roof for your home. We will help you choose a sturdy and reliable roofing material to prevent any need for future repairs, and we will make sure that the roofing material that you select fits with the overall architectural style of your house, while keeping in mind your budget at all times.
We understand that of replacement in St. Louis can be a lengthy renovation project, which is why we make sure that the experience is as painless and unobtrusive as possible, without causing any major disruption to your household's normal routine. We take care not to disturb your windows and landscaping, and we keep a clean and tidy workspace throughout the project. The end result is a roof that is practical, durable, and aesthetically pleasing.
Contact Our St. Louis Roof Replacement Company
Having a good, solid roof over your head is one of life's essentials, and you can never go wrong with choosing Schneider Roofing & Remodeling as your St. Louis roof replacement contractor of choice. We are fully insured and we have been serving the roofing needs of St. Louis' residential communities for more than twenty-four years. We are committed to making sure that you have a sturdy roof over your head. Our business philosophy is firmly rooted in God's Word, and our first goal has always been to serve God in all we do. This is reflected in our work ethics, our honest and fair pricing, and our excellent workmanship.
If you find yourself in need of roof replacement in St. Louis, call our roofing company today at 314-378-6623 to get a free quote!