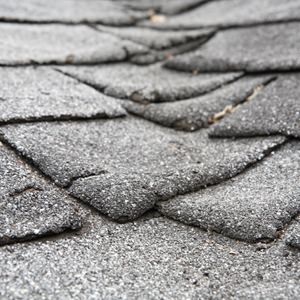 Before realizing that they need a new roof, too many people wait until their roof has a horrible leak with water flooding into their home. It's a shame, as it can cause extensive, expensive damage—and certain things, like valuables or pictures, can't be replaced if contacted by water.
Instead of waiting for a nasty leak to give you a sign that you need a new roof, here are some less destructive signs:
1. Roof age – How old is your existing roof? You should have your roof inspected by a professional every year, but once it passes the 10-year mark, it should absolutely be inspected annually. With each passing
year, it will deteriorate more and more. A roofing professional can give you an honest evaluation of how much time you'll have left with an older roof. It could be 10 years, it could be 20 years.
2. Curling and buckling of shingles – Shingles that are curled or buckling is another sign that you may need a new roof. Look at the slopes of your home that have direct sunlight. Do the shingles look like they're curling away from the roof? Do they look like they're losing granules? If so, that's a sign of defect and your roof should be inspected soon.
3. Valleys – If your shingles are falling apart or missing in valleys, it is a definite sign you may need a new roof. Valleys are one of the most important areas of your roof. Water runs through valleys into gutters. Should a valley be compromised, it's not a matter of if you will have a leak, but when.
4. Missing shingles – These are another sign your roof could be failing. Check to see if all of the "tabs" are intact. If you notice an area where several have blown away, it's important to contact a professional to evaluate the situation.
5. Chimney flashing – This is another area to be concerned about. If your flashing consists of roof cement or tar, it may need to be replaced with a long-term, watertight fitting, which would be a metal flashing system.
6. Shingle granules in the gutters – Look in your gutters to see if they are loaded up with granules. Roofs tend to lose more granules toward the end of their lifecycle.
7. Daylight through the roof boards – Go in your attic and see if there is any daylight coming through the roof boards. Also check for moisture in the insulation.
If you're not comfortable climbing in your attic, or you'd simply feel more comfortable with a professional giving you an honest, upfront opinion about your roof, you can always call your friends at Schneider Roofing and Remodeling at 314-378-6623. We will never pressure you into a new roof—instead, we'll give you an honest answer about your roof's life expectancy. Your safety and satisfaction are what's most important to us.