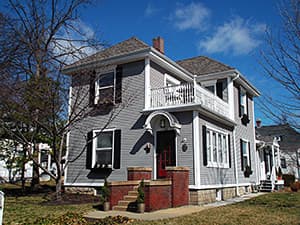 Schneider Roofing and Remodeling is more than just a roofing company, we are expert siding contractors as well! If you are looking for an affordable, low-maintenance way to improve the look of your home, vinyl siding may be the answer. A quick facelift can drastically improve the appearance of many houses. We offer siding in a variety of styles and colors, so you can customize the look of your home. In addition to installing new vinyl siding to replace old siding materials and update the look of your home, we can also perform siding repairs on all types of siding.
To learn more about our siding repair and siding installation services and to schedule an appointment with our St. Louis siding contractors, contact our roofing company today online or by phone at 314-378-6623.
Vinyl Siding – A Functional, Beautiful, and Affordable Choice for Your Home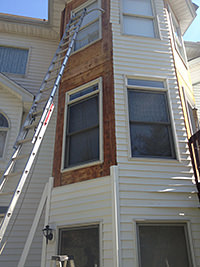 While siding can go a long way towards beautifying the exterior of your home, that is not the only reason to look for experienced siding contractors. Vinyl siding also effectively insulates your house, helping keep you cool in the summer and warm in the winter – and saving you money on energy bills. Additionally, we recommend beginning any siding project with a complete home wrap. This additional layer of insulation will pay for itself faster than you can believe.
When it comes to vinyl siding installation not every family has the same needs and not every home's construction is the same, so as experienced siding contractors, we will talk to you about the different options that we have available and which of our many different grades of siding is right for your needs.
Another related aspect of siding are the soffit and fascia finishes. These elements are often overlooked during initial siding installation by many companies, but can have a great effect on making your home look more polished and put together. Soffit and fascia finishes added under the eves of a roof or on the ceiling of your porch or covered deck can completely change the feel of the space – creating a warm, inviting ambience in an area that previous felt unfinished and empty.
Siding: A Low Maintenance Option for Home Improvement
As any experienced siding contractor can tell you, one of the most appealing aspects of installing vinyl siding on your home is how easy it makes exterior maintenance. In most cases, rainfall will be enough to keep the outside of your house looking clean and bright. However, a periodic rinse with a garden hose or power washer will help to remove any stuck on dirt, particularly on those areas that are covered or protected from the elements.
Learn More About Siding from Our Vinyl Siding Experts
Contact Our Siding Contractors to Begin your Vinyl Siding Installation Project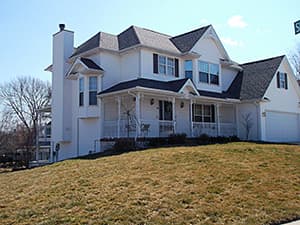 If you are thinking about replacing your old, worn siding or simply updating the look of your home with new vinyl siding, call our expert siding contractors today to get your project started. Vinyl siding can be installed at any time of year, with no ill effects, so there is never a bad time to call. As leading siding contractors serving the St. Charles and St. Louis areas, we are available to take your call and discuss your siding installation or repair needs for any project.
Additionally, we offer siding and roof financing options, and we will work with you to make sure you get the most for your money. To learn more about how we can help, contact us today!