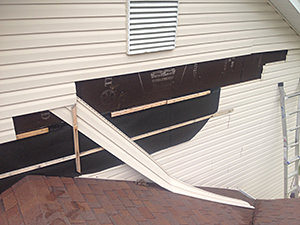 Aside from destroying cars, hail can cause potentially serious damage to a home. A hailstorm and the accompanying high winds can cause damage not only to your home's roof, but to the exterior structure of your home as well, particularly your siding.
If you are looking to restore your home to its original condition after a hailstorm, Schneider Roofing & Remodeling can help you repair your home quickly and within budget. We come highly recommended by most St. Charles homeowners when it comes to repairing siding hail damage because of our precise workmanship and great attention to detail at surprisingly affordable prices.
Contact our siding and roofing company at 314-378-6623 today to learn more and to get a free quote.
Our Siding Hail Damage Repair Services
While vinyl siding generally holds up really well when exposed to harsh natural elements, its sturdiness may be compromised if a hailstorm is too powerful, resulting in cracks, dents, breaks, chips and other siding hail damage. If you recognize signs of siding hail damage, then it is important to have the siding repaired right away. If left untreated, siding hail damage will only get worse.
At Schneider Roofing and Remodeling, we can come to the rescue if you suspect damage to your siding. Here are some of the siding hail damage services that we offer to residential homes throughout St. Louis and St. Charles:
Evaluate: We will make an honest assessment of your siding hail damage in order to determine what needs to be done. While not all damage is easy to spot, trust us to tell you the truth on whether you need a siding replacement or repair.
Repair: If the dents or damage caused by hail to your siding are minor, we can have it repaired and returned to its original appearance. Our team of experienced and highly trained hail damage professionals will repair the siding quickly and at an affordable price.
Replace: If you have severe siding hail damage, complete replacement could be your best choice. We can help you choose a vinyl siding product that will not only fit the overall design of your house, but will also protect your home from future hailstorm damage.
Hire the Best St. Charles Contractors for Siding Hail Damage Repair
If you have recently experienced a major storm and you suspect siding hail damage or other exterior damage to your home, we can help. Contact Schneider Roofing & Remodeling today for an assessment and to learn how we can fix your siding hail damage. In St. Louis and St. Charles, call our expert siding and roofing company at 314-378-6623 to get started!