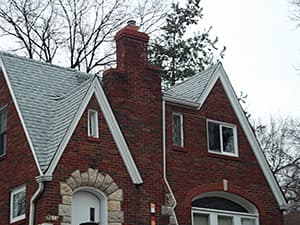 A full roof replacement is one of the most expensive long-term repairs any homeowner will ever make. That is why choosing your roofer is one of the most important (and potentially stressful) decisions a homeowner makes. However, with Schneider Roofing and Remodeling, we make choosing your roofing contractor easy. As a leading roofing contract in St. Charles, we promise to offer the best service with 100% satisfaction guaranteed. Contact our roofing company today to learn more about roof replacement for your home.
Choosing the Right Company to Replace Your Roof
When shopping for a roof replacement company, it is important to know that you can trust your contractor. Here at Schneider Roofing and Remodeling, we have been serving the greater St. Louis and St. Charles areas (including St. Charles county, O'Fallon, St. Peters, Wentzville, and Lake St. Louis) for over 20 years. We are a local and family-owned business, so every project we take on is more than just a job – it is an investment in our community.
Some fly-by-night roofing contractors pass through town, throw up a couple dozen low quality roofs, and then disappear before their sub-par work becomes obvious. This kind of behavior makes customers leery and gives the whole industry a bad name. With Schneider Roofing and Remodeling, because we work where we live, you never need to be afraid that we will try to palm off a subpar product on you or cut corners on installation. We are not just out to make a buck installing a quick roof; we are looking to partner with our clients and create lasting relationships as the local roofing company you can trust. Whether you need a total roof replacement or a simple repair, we can help you make the best decision and complete your service with satisfactory results.
Experience Matters When It Comes To Roof Replacement
Thanks to our 20+ years in the business, we have seen and worked on most roofing systems, which means that our products and methods have been thoroughly field-tested. With a 30-year warranty, not to mention our 100% satisfaction guarantee, our customers know that we will bring the full weight of our experience and knowledge to bear on their project. From the simplest jobs to the most complicated roof replacement, our roofing experts are here to help.
Whether you are looking to replace a flat roof, a steep shingled one, or something else, you can take comfort knowing that we have the experience and knowledge needed to handle your project. We earned our reputation as an affordable, honest, and reliable St. Louis roof replacement company the old-fashioned way, one satisfied customer at a time and we promise to make sure that you are satisfied with our work as well.
Our Commitment to Excellence in Roofing Replacement and Repair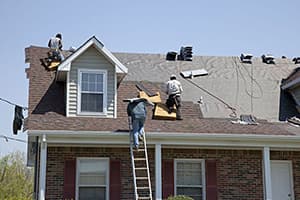 As our customer, your happiness is our top priority. For us, that means more than just completing your roof replacement. It means that we ensure that your entire experience with our employees and out company will be a positive one. We understand that a full roof replacement can be a costly and stressful investment. However, we keep your interests in mind in order to ensure your satisfaction throughout the process.
To learn more about comparing roof replacement and roof repair and to find out more about our complete roofing replacement services, contact our roofing company online or by phone today at 314-378-6623.