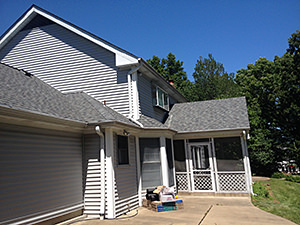 Vinyl siding is a great solution for the homeowner seeking to modernize the look of their home's exterior and boost curb appeal. At Schneider Roofing and Remodeling, we are more than just a roofing company. We are expert Richmond Heights siding contractors as well!
If you would like to learn more about our Richmond Heights siding contractor services, contact our roofing company online or by phone at 314-378-6623. We can provide full vinyl siding installation as well as siding repair services for all types of siding!
Vinyl Siding: A Beautiful Appearance with Practical Functionality
From offering a variety of colors and styles to providing room for extra insulation and a simple maintenance regime, vinyl siding delivers abundant versatility with its application. Some of the many reasons our Richmond Heights siding contractors suggest vinyl siding include:
Aesthetics – Vinyl siding offers an array of color options as well as many styles from which to choose. Whether you are seeking to create a traditional, classic look with a neutral tone, a bold color with a stunning style or anything in between, it is all possible with vinyl siding.
Easy Maintenance – Vinyl siding is very easy to maintain, especially in comparison with other types of siding. Often cleaning your vinyl siding can be as simple as having a heavy rainfall. If that does not work, you can usually just do an easy spray down with the garden hose.
Energy Efficiency – Vinyl siding gives homeowners the opportunity to include an added layer of insulation to protect the house from the elements. Our Richmond Heights siding contractors often recommend including a complete house wrap before installing siding to give your home that additional layer of protection.
Cost – Vinyl siding is a cost-effective option for your siding needs and can last for years to come.
Why Choose Schneider Roofing and Remodeling to be Your Richmond Heights Siding Contractors?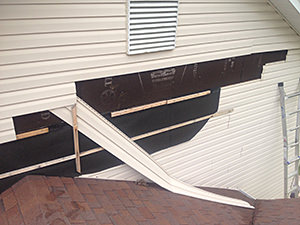 Along with roofing, Schneider Roofing and Remodeling has been Richmond Heights siding contractors for over 25 years. We are a family owned and operate business, dedicated to our community and neighbors. We believe in our craft and maintain a strong work ethic, as we have done since our company's beginnings. As Richmond Heights siding contractors, we treat each job we do personally, and deliver nothing less than 100% satisfaction to our customers. We are not content with our work unless you are too. Our customers benefit from our years of experience in the field. Our methods and materials are thoroughly tested, which means we can stand behind our work completely. We believe our company integrity and good reputation is reflected in our A+ rating with the Better Business Bureau and the many positive reviews left by past customers.
Learn More About Our Richmond Heights Siding Contractor Services
To learn more about our Richmond Heights siding contractor services, contact our roofing company online or by phone at 314-378-6623. You can speak with one of our Richmond Heights siding contractors today to discuss the vinyl siding project you have in mind or to discuss your siding repair needs!