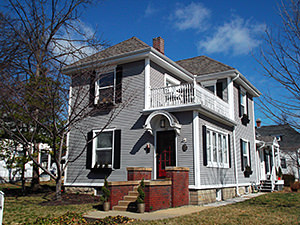 At Schneider Roofing and Remodeling, our expertise goes beyond roofing. We are siding experts as well, and have teams of experienced O'Fallon siding contractors on whom you can depend. If you are in the market for an affordable and easily maintained way to update your home's style, new vinyl siding could be the solution! Our O'Fallon siding contractors can work with you while reviewing the variety of siding styles and colors we have to offer. We also provide siding repairs on all types of siding. Whatever your siding needs may be, we can meet them!
For more information about the services provided by our O'Fallon siding contractors, including siding installation and siding repair, or to schedule an appointment for a free quote, contact our roofing company today online or by phone at 314-378-6623. An O'Fallon siding contactor specialist can speak with you about the siding project you have in mind for your home.
Why Choose Schneider Roofing and Remodeling as Your O'Fallon Siding Contractors?
Schneider Roofing and Remodeling has been proudly serving O'Fallon's roofing and siding needs for over 25 years. We are experts in our field, and have worked hard to maintain our great reputation as dependable O'Fallon siding contractors! We stand by our work and only accept complete satisfaction for each project.
At Schneider Roofing and Remodeling, we understand that every customer's situation is different. Whether your home simply needs a repair to the current siding, or requires a full siding installation. We take every aspect into consideration to help you determine the best option for your home's siding needs. We consider the home's build and what is most important to our customer, and work to create an optimal siding solution.
Vinyl Siding as the Perfect Choice for the Exterior of Your O'Fallon Home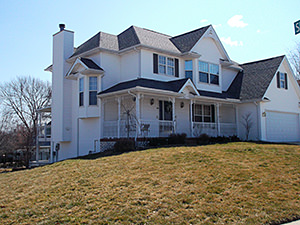 In many cases, vinyl siding can do aesthetic wonders for a house. It can update and brighten the exterior, and give your home's face the character you may feel it has been missing. But, new vinyl siding is more than just a pretty face. Indeed, vinyl siding is an effective insulator offering your home protection from extreme outdoor temperatures. This insulated vinyl siding can help keep heat in during the winter, and out during the summer! Our O'Fallon siding contractors often also recommend beginning any siding project with a full house wrap as well. This extra step adds to the energy efficiency delivered by your vinyl siding choice, and helps reduce your heating and cooling bills a bit more.
Further reasons our O'Fallon siding contractors advise vinyl siding:
Easy Maintenance – Vinyl siding offers simple and easy exterior maintenance for your home. Often a simple rainfall acts to wash any dirt off, but if your siding starts to look a bit dingy then a spray with the garden hose should do the trick!
Versatility – Vinyl siding comes in many styles and colors, giving customers the choice to create any aesthetic they desire!
Cost – Vinyl siding is a great, cost-effective option for a long-lasting siding choice.
Learn More About the Services Our O'Fallon Siding Contractors Offer
If you would like more information about the services our O'Fallon siding contractors can offer or would like to schedule an appointment with an expert siding contractor, contact our roofing company online or by phone at 314-378-6623 today!