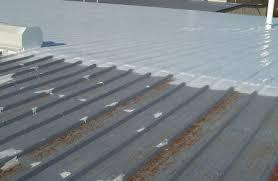 Your building's old rusted metal roof may have seen better days, leaving you considering a full roof replacement or major repairs. However, you may be pleasantly surprised to know your metal roof may only require a new coating. On the other hand, perhaps you are in the market for a new metal roof, and are wondering if the factory-applied paint finish will suffice.
Schneider Roofing and Remodeling has an array of metal roof coating services. We offer custom coatings for your metal roof, regardless of its age. Contact our roofing company today to learn more!
The Benefits of Metal Roof Coating
When properly maintained, a metal roof can last 50 years and beyond. Part of that maintenance routine often includes giving your metal roof a finish coating. The benefits of adding a coating to your metal roof are plentiful. For starters, a strong metal roof coating can enhance the roof's aesthetic, and extend its longevity. When finished with the proper coating system, metal roofs can reduce a building's carbon footprint by lowering energy consumption as less heat is absorbed into the roof. Many coatings also offer protection to the roof itself, helping it to sustain against the elements.
Schneider Roofing and Remodeling offers an array of metal roof coating services. From paint to sealant, and more, we can handle all your metal roof coating needs. We offer coatings that use Elastek®, which is an elastomeric metal roof coating that serves to provide:
Protection – This coating system protects your roof from the elements, blocking damage from wind and rain, and resisting dirt and dust accumulation.
Energy Efficiency – Light colors chosen for roofs can reduce heat absorption from the sun, thereby lowering cooling costs for the building.
Cost Efficiency – The cost of coating an existing roof to restore it is significantly lower than the cost of a new roof.
Quick Installation – These coatings are applied quickly, letting you get back to business ASAP.
Why Choose Schneider Roofing and Remodeling for Your Metal Roof Coating Needs?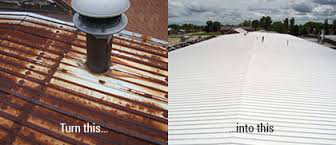 Schneider Roofing and Remodeling is a family owned and operated company that has been providing roofing services to St. Charles for over 25 years. As the premier roofing company in the area, we take our reputation and name very seriously. We promise 100% satisfaction with every project we complete. If our customers are not happy, we are not happy. Our expert technicians know metal roof coating like the back of their hands, providing you with a job well done, and the peace of mind that your metal roof coating will be backed by our company.
Learn More About Metal Roof Coating
If you have questions, or if you would like to talk to us about getting a free quote for your metal roof coating job, please contact our St. Charles roofing company today. One of our expert technicians will be happy to walk you through your options, and help you decide the best route to address your metal roof coating needs!