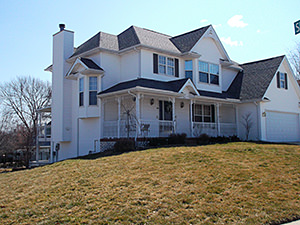 Vinyl siding can be the perfect solution for homeowners that are looking for a way to modernize the exterior of their house and boost their curb appeal. At Schneider Roofing and Remodeling, we are more than just a roofing company. We are an expert Kirkwood siding contractor company as well.
If you would like to discuss the siding project you have in mind for your home, contact our roofing company online or by phone at 314-378-6623. You can speak with one of our Kirkwood siding contractors today to answer any questions you may have about your siding installation project. We also do siding repairs for all types!
Vinyl Siding Offers Versatility and Style
Vinyl siding has much to offer for the inquisitive homeowner. Whether you are looking for a colorful way to update your home's exterior, need replacement due to storm damage, or for any other reason, our Kirkwood siding contractors are here to help! Vinyl siding can deliver everything from a pleasing aesthetic to a practical solution for your siding needs.
Reasons why our Kirkwood siding contractors suggest vinyl siding:
Cost – Vinyl siding is one of the more cost-effective siding options available, especially taking things like maintenance and insulation into consideration.
Aesthetic – Vinyl siding delivers options! Homeowners have the luxury of choosing between not only a variety of colors and tones for their siding, but siding styles as well! This results in almost endless design possibilities.
Ease of Maintenance – Vinyl siding is very easy to keep clean. Often cleaning your vinyl siding can be as simple as waiting for a heavy rainfall. In the event that does not do the trick, a spray down with the garden hose should!
Energy Efficiency – Vinyl siding provides a route for further protection from the elements for your home. In fact, our Kirkwood siding contractors often recommend including a complete house wrap before fitting siding in order to give your home that additional layer of protection.
Why Choose Schneider Roofing and Remodeling to be Your Kirkwood Siding Contractors?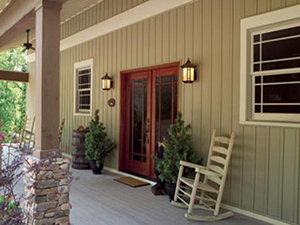 Schneider Roofing and Remodeling is a company entrenched in the community. We have been providing siding contracting in Kirkwood for over 25 years. Since our company began, we have maintained a strong work ethic and unshakeable integrity. As a family owned and operated business, we simply see no other way of doing things. Our projects only produce results that are 100% satisfactory to our customers. If you are not happy, we are not happy. Further, our years of experience in the field means our Kirkwood siding contractors employ methods that are tried and true and use materials we know will meet our high standards and expectations.
Learn More About Our Services as Kirkwood Siding Contractors
If you would like more information about your siding project or repair needs, contact our roofing company today online or via phone at 314-378-6623. You can speak with a Kirkwood siding contractor specialist and have any questions answered or schedule a free quote for our services!