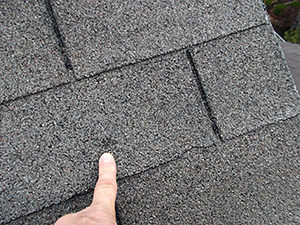 After a hailstorm, the hail damage on your roof might not be so obvious right away – but after the dark clouds have passed and the sun is shining once again, it is important to go out and check for any damage done to your home. If you have questions or would like a professional inspection, you can give our St. Charles roofing company a call at 314-378-6623 to learn more.
How to Check for Roof Hail Damage
There are a couple of steps that you can take on your own in order to check for hail damage on your roof. However, it is important to remember that if you feel that you have not been able to fully identify the extent of the hail damage, you can always ask for help (in fact, we recommend it!). A professional, like the experts at Schneider roofing, can perform an honest and thorough assessment of your roof and siding to recognize any problem areas and make sure that nothing has been missed.
When you are checking for roof hail damage, the following are some steps that you can take:
Check the surrounding greenery: The same thing applies to your trees and shrubbery. If you see that they have been stripped of foliage, there is a good chance that your roof has been affected by hail as well.
Check the cars parked outside: If hail has damaged the cars that are parked outside garages, then there is a high probability that your roof is damaged as well.
Check your downspouts and gutters: Inspect your gutters and downspouts for signs of damage as this can be a signal that your roof has been damaged as well. You might see dents, cracks, and/or chips in your gutters. Another tell-tale sign of hail damage to your roof are granules that get stuck in the gutter. These come from broken shingles that have been damaged by hail and have been washed away into the gutter.
Check your roof: If you are comfortable doing so, climb to your roof using a sturdy ladder and do a visual inspection of the whole surface area of your roof, including vents and pipe flashing.
Check the shingles: Look at the individual shingles for signs of damage. If you notice any cracks or missing shingles from your roof, it is important this is repaired right away as it can lead to water leakage, creating the perfect environment for mold and mildew to grow and thrive in your home.
What are the Signs of Hail Damage on Your Roof?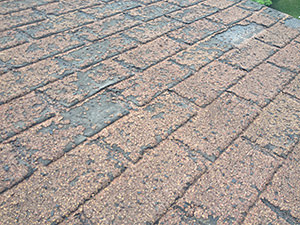 Hail damage on your roof can compromise the structural integrity and soundness of your home, and if nothing has been done to repair or replace it, the damage can result in a variety of major problems, including total roof collapse and huge expenses. Here are a few indications you should watch out for when checking for hail damage on your roof.
Cracked roof tiles
Missing or bruised shingles
Bruised shingles that are soft to the touch
Granules missing from the shingles
Granules stuck in the gutters/downspouts
Leaks in the ceiling
Hiring a Hail Damage Roof Repair Contractor in St. Charles
Do not let hail damage on your roof turn into something much worse. Take good care of your biggest investment and call our roofing company today at 314-378-6623 for a thorough inspection and to repair the damage hail has caused to your home.