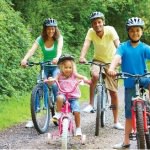 Spring is almost here! For many, this time of the year means a trip to some remote beach to enjoy the nice warm sun! However, if you're like most families, that may not be in the budget this year. And that's okay! That doesn't mean you shouldn't take that time off and enjoy the changing temperatures. Here are some great things you can do on your very own Spring Break at home! Even better, these are family-fun activities!
Start a small garden. Let your kids pick an herb, flower, or a vegetable (or one of each) and plant them from seeds in small pots on a windowsill. It's a great way to teach them where all their veggies come from and show them how easy it is to start their own garden.
Picnics outside (weather permitting) are an excellent way to get some fresh air. The best thing to do is to go for a hike and pack a lunch. When you get to your destination, enjoy the views while you savor your PB&J's or whatever else you brought. Lunches really do taste best when eaten outdoors.
Go for a bike ride. Find an interesting route to take and go sight-seeing on a bike.
Volunteer in your local community. For older kids, it's important to show them how they can get involved in their community and volunteer. There are plenty of organizations looking for some help, and many of the duties may be outside, so you can continue to enjoy that bright spring sunshine!
Build something. Bird houses, tree houses, sandboxes, mazes, swings, and other cool things! The sooner you can show your kids how to be handy, the better. When they grow up, they won't be afraid to try and tackle other projects on their own!
Discover. Be a tourist in your own town. Go online and look up some fun things to do that you've never done. The only rule? You can't go anywhere you've been before. You likely will find some incredible activities that you didn't know existed or wish you would have visited many years prior!
Go camping. If it's warm enough, pick a site to go camping – this will take you out of your normal surroundings and focus all your attention on the family. Invite other families to come along for a fun and exciting adventure!
Farmers market day. Take a field trip to your local Farmer's market and have the kids help pick out tonight's dinner. They'll love choosing the brightly colored fruit and vegetables. When you get home, they can be your assistant chefs in the kitchen and help you put it all together.
Well, this should be enough ideas to get you started on planning an incredible spring break with your kids. Keep in mind: Many of these activities don't require a lot of time! So, even if your kids have time off for Spring Break and you don't, you can still squeeze one or two in! You can never have enough quality family time!