Gutters are integral parts of most roofing systems. Though, we tend not to notice them unless they are in need of service due to damage or excessive clogging. However, these seemingly small pieces of your home's larger roofing puzzle are quite significant to the structure of your roof and protection of your home.
Their function is commonly known, in that they collect rain water through a system of channels on the perimeters of your roof which then flows out through downpipes, carrying water away from your home or building. The importance of this function is truly essential for the upkeep and maintenance of your property. Gutters come in an array of styles, depending on a building's requirements. Well-done gutter installation can mean the difference between dependable functionality and creeping damage to a building's overall structure.
If you would like to learn more and talk to an expert about gutter installation, contact our roofing company today! We can be reached online or by phone at 314-378-6623 where you can speak with a Schneider Roofing and Remodeling specialist to answer any questions you might have about your gutter needs. We can also provide a free quote for your gutter installation project!
Gutter Installation Services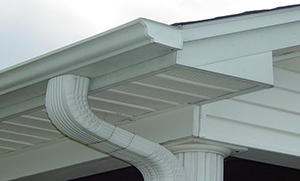 Whether you need complete gutter replacement or new build gutter installation, we can work with you. At Schneider Roofing, we offer standard and seamless aluminum gutters. Our gutters come with a baked enamel finish and are available in a wide array of colors. We offer standard 5" gutters with 2" x 3" downspouts. We also offer upgraded 6" gutters with 3" x 4" downspouts. These larger gutter options tend to be ideal for larger roofs. One of our gutter installation specialists can speak with you to help you determine which gutter system will work best for your home or business.
It is vital that your gutter system is properly installed and maintained. Shoddy gutter systems create dangerous environments for the buildings they are meant to protect by way of structural and internal damage.
Why Schneider Roofing & Remodeling is the Right Company for Your Gutter Installation Project
Schneider Roofing and Remodeling is a local, family-owned St. Charles company. We are experts in our trade, providing high standard services, including gutter installation, to the people in our community. For over 25 years, we have been perfecting our craft, and our materials and practices are tried, tested, and true. Our reputation is reflected in our A+ rating with the Better Business Bureau and by the countless positive reviews left by our past customers. Our work is guaranteed with our promise that we will only accept 100% customer satisfaction.
Learn More About Gutters & Gutter Installation
Learn More About Our Gutter Installation Services
If you would like to learn more about our gutter installation services, contact our roofing company online or via phone at 314-378-6623 today. We have experts available for you to ask any questions on your mind or if you would like to request a free quote for our gutter installation services.