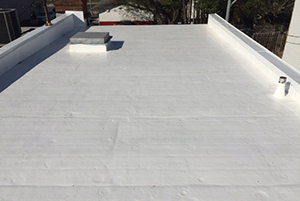 Flat roofing systems are commonly found on commercial, industrial, and residential buildings. In fact, some buildings can only be roofed with flat roof systems due to the pitch of the roof. If you are looking for a flat roof solution, there are several  flat roof replacement options that fit both the technical aspects of the roof and your budget.
Schneider Roofing and Remodeling is an expert roofing company serving the greater St. Charles area that has extensive experience with flat roof replacement. If you would like to learn more about our flat roof replacement services, contact our roofing company today!
Complete Flat Roof Replacement Solutions
At Schneider Roofing and Remodeling, we have several different solutions for your flat roof replacement needs. Our skilled technicians can install the following flat roof replacement options with the best choice depending on your budget and needs:
Thermoplastic Polyolefin (TPO) Roofing Systems: TPO roofing systems are made up of single-ply roof membranes, constructed from an ethylene propylene rubber. Highly versatile, strong, and durable, these roof coverings offer longevity and are highly efficient in every weather scenario. TPO roofing systems are resilient, unlikely to discolor, and resistant to algae, lichen, and mold. Further, TPO roofing systems are highly suited to roofs with storm and secret gutters, valleys, and troughs as TPO's unique durability offers peace of mind in difficult roof detail applications.
Modified Bitumen Fully Adhered Roof Systems: Sometimes also referred to as "built up mineral felt", Modified Bitumen Fully Adhered Roof Systems are usually installed in two or three layers. This type of flat roof replacement is good for new roof coverings. It is also a versatile repair solution for all flat roofs, including some shallow pitch roofs. This system is placed over a hot tar application, with all gutters and curbs doubled up to maximize the roof's watertight efficiency.
Ethylene Propylene Diene Monomer (EPDM) Roofing: EPDM roofing is another of the common types of roofing systems used for flat roof replacement. This is an extremely durable synthetic rubber roofing membrane made primarily from ethylene and propylene. This roofing system is available in black and white and is sold in a broad variety of widths and two thicknesses.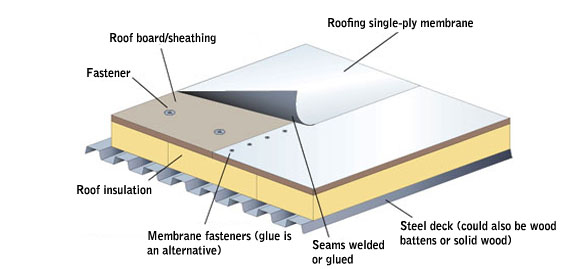 Contact Us for Your Flat Roof Replacement Needs
Schneider Roofing and Remodeling is your local, dependable roofing company for all of your flat roof replacement need. We have grown a trusted reputation within our community, reflected by the many positive reviews that we have received from your and our neighbors over the years. We provide the St. Charles area with high-quality flat roof replacement services, and have proudly done so for over 25 years.
Of the many benefits gained by working with our company, our years of experience are perhaps the most essential. At Schneider Roofing and Remodeling, we use only the highest quality materials, which we have determined through our time in the field. Further, our techniques are thoroughly tested due to our established best practices. We stand by our work, demanding 100% satisfaction with our jobs, guaranteed!
Contact our roofing company today online or via telephone at 314-378-6623 to discuss your flat roof replacement needs or to request a free quote for our flat roof replacement services.