EPDM Roofing, or ethylene propylene diene terpolymer roofing, is a rubber roof system that is often used in roof repair for an existing roof or as cover for various types of new construction. Especially well fitted for low pitched roofs, this can be a particularly popular choice for commercial buildings as well as car ports and patio covers.

If you have questions about EPDM roofing and would like to speak to a professional, contact our St. Charles roofing company today online or via telephone at 314-378-6623. We are happy to discuss the pros and cons of EPDM roofing with you.
EPDM Roofing as a Flat Roofing Solution
EPDM roofing is simply long rubber mat sheets applied to roof tops, usually with glue. The mats come in various thicknesses, ranging between 45 to 90 millimeters. Due to the nature of the material, EPDM roofs are virtually leak-proof largely in thanks to the lack of seams in the application. This roofing option is versatile and resilient, with both solar panel and rooftop garden compatibility.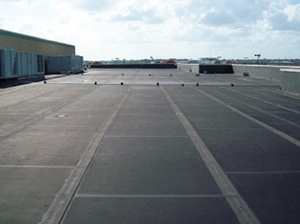 The many benefits of EPDM roofing are:
Cost – EPDM roofing is a cheap, cost-effective solution for many roofing scenarios, especially in comparison with other flat roof system options.
Longevity – EPDM roofing can last a very long time, up to 50 years. 30 year warranties are quite common in EPDM roofing, and especially when paired with an acrylic paint coat, these roofs can typically see your building through for half a century!
Resilience – EPDM roofs are very resilient, able to withstand the heat of the sun, with today's formulations of rubber highly resistant to harmful UV rays. Further, this type of roofing is both wind and hail resistant.
Energy Efficiency – EPDM roofing is practical for energy efficiency purposes as they can be coated white as a design to reflect the sun's rays away from the rooftop, lessening heat input, thus saving your air conditioning some of the hard work on hot summer days. In colder weather, they can keep a building's heat in, helping to preserve heating.
Environmentally Friendly – Very little energy is required to make EPDM roofing. This coupled with its longevity and the fact that the material is almost 100% recyclable; it is a great option for those with green interests.
Versatile – EPDM roofing is malleable and thus able to form fit against roofs.
Fireproof – EPDM roofing is fireproof and can even impede the progress of a fire.
Why Choose Schneider for Your EPDM Roofing Needs?
Schneider Roofing and Remodeling is a St. Charles establishment, providing your EPDM roofing needs for over 25 years. We are experts in the field, and our jobs come with a 100% satisfaction guaranty. Our methods and material are tested, tried, and true, and we are not happy with a project's completion unless our customers are too!
Learn More About EPDM Roofing as a Roofing Solution for Your Project
If you are interested in learning more about EPDM roofing and whether it is a good option for your building or home, feel free to contact our roofing company online today or via telephone at 314-378-6623. A Schneider Roofing and Remodeling EPDM roofing specialist would be happy to discuss any questions you might have or provide a free quote!