Unexpected roof leaks and falling limbs are not just an inconvenience – they can put your family and home in real danger, particularly during harsh weather. In addition to the immediate risks of leaving a damaged roof unrepaired during snow- or storm-prone seasons, allowing the elements into your home for longer than absolutely necessary can cause long-term damage to the house's infrastructure (rafters, support beams, insulation, etc.).
If your home is struck by a fire, storm, tornado, severe wind damage, an unexpected leak, or any other problem that requires an emergency roofing repair, your local roofing company, Schneider Roofing and Remodeling is here to help!
Local Roofing Repair Means Fast and Reliable Roofing Repair in Emergencies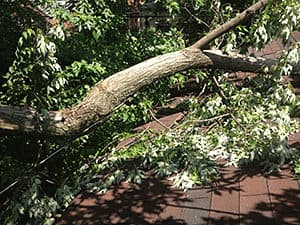 Located in St. Charles, Missouri, Schneider Roofing and Remodeling serves customers throughout St. Charles and the surrounding areas including St. Charles city and county, O'Fallon, St. Peters, Wentzville, and Lake St. Louis, which means that, when disaster strikes, we are on hand to quickly provide emergency roofing repair. We will show up fast and quickly do the repairs necessary to get you and your home back on track. However, just because we act fast, does not mean that we let our standards fall. We complete all emergency roofing repairs with care, by highly trained and experienced employees, and always to manufacturer specifications.
Schneider Roofing and Remodeling has been part of the St. Charles community for over 24 years, and we are never more conscious of our customers' needs than when we are called out for emergency roof repairs. We understand that it can be a stressful situation when your roof is suddenly damaged due to a storm or disaster, and while the situation might be urgent, that is no excuse for gouging clients. We value our customer relationships above all – certainly more than making a quick buck. We will never try to sell you a service that is not in your best interest, nor will we suggest a full roof replacement when cost effective roofing repairs are what you truly need.
More importantly, if your roof has reached the end of its useful life or is damaged beyond repair, but roof replacement is not currently an option to due to seasonal concerns, budget, or other factors, our technicians can discuss temporary emergency repairs until a replacement option can be made available. Our goal is always to provide you with the best possible solution to your emergency roof repair needs, without overcharging or taking advantage of your predicament.
What Sets Us from Other Roofing Contractors – Our Roofing Repair Guarantee
When we provide you with a service – whether it is emergency roof repairs or something else – we promise to do it right the first time. If a roof repair fails during the season, our 1-year product and material guarantee promises that we will repair it again absolutely free. Since we use only the highest quality, field-tested materials, and have the utmost faith in our employees, we can afford to go above and beyond.
If you find yourself in need of emergency roof repair – no matter the problem, no matter the season, our roofing company is there for you. Contact us today online or by phone at 314-378-6623 for a quote and to learn more about how we can help.