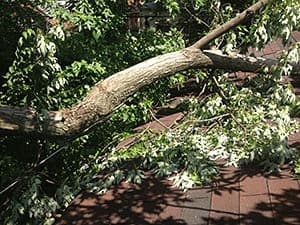 When you need a Defiance roofing contractor, you need someone you can trust. Schneider Roofing and Remodeling has built a reputation in Defiance as an honest company that does quality work and charges reasonable prices. With a team of knowledgeable and experienced workers who always get the job done on time, it is no wonder so many people choose us as their Defiance roofing contractor.
Defiance roofing demands a roofer who understands how the local weather conditions can make repairs challenging. It is critical that your roof is well maintained due to the unpredictable nature of Midwest weather. Contact us today to learn more about our services and to learn what makes us one of the best Defiance roofing companies.
Unpredictable Weather & Defiance Roofing Challenges
Weather in Defiance can change quickly, and severe winter, spring, and summer storms can each cause their own types of problems. To a Defiance roofing contractor, the weather can be a huge annoyance. Every storm has the potential to harm your roof and cause leaks where moisture can seep into your insulation or walls. Even when you cannot see the moisture, it can cause dangerous mold to grow behind your walls, exacerbating allergies or causing respiratory distress for your family members.
In the spring and summer, it is not unusual to have numerous storms hit close to one another, so it is important to have a trustworthy Defiance roofing contractor on whom you can rely to repair any storm or hail damage quickly and properly. Even minor damage from a storm can severely weaken the integrity of your roof, making it more likely to be seriously damaged in the next storm. Therefore, it is important to have a reliable, dependable, and prompt Defiance roofing contractor on your side.
While Missouri winters are often mild, you cannot count on winters to be predictable at all. If your roof is already damaged, even just a foot of snow can cause it to collapse. Additionally, as the snow thaws throughout the day, it can cause new leaks to develop or allow water to leak through your already damaged roof.
Because of the potential effects of severe weather, it is important that you have a Defiance roofer perform a proper roof inspection before any spring or winter storms begin.
A qualified contractor can examine your roof to look for signs of damage and make sure your roof is ready for any severe weather. A damaged roof may not be noticeable from inside your home, so it is critical to have a Defiance roofing inspection at least once every two years.
Emergency Roofing Repair
If a storm causes damage to your roof any time of year, you will need timely emergency roofing repairs. It is critical that any roof damage that occurs during storm seasons be repaired quickly to help prevent additional damage. Schneider Roofing offers fast and high-quality roof maintenance, repairs, and inspection for all your Defiance roofing needs.
Contact Us Today for A Defiance Roofing Quote!
At Schneider Roofing, our company was built on the idea set forth in Proverbs 22:1, "A good name is more desirable than great riches." That means we never cut corners or sacrifice quality for the sake of saving a few bucks. Contact our Defiance roofing company today to learn more about our services and how we can get your home ready for the unpredictable and sometimes harsh weather of the Midwest.