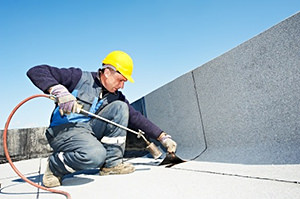 Our commercial roof inspections are designed to analyze your roof's current condition, and recommend repair and maintenance programs that will extend the life of your roof, and save you money in the long run. As your local commercial roofing company serving the entire St. Charles and St. Louis areas, we pride ourselves on our commitment to our customers, helping them find the most affordable repair and maintenance options, and never recommending unneeded products or services. Contact our commercial roofing company today to learn more about our roof inspection process and services.
Our 20-Point Commercial Roof Inspection
When you contact us to perform a commercial roof inspection, the first thing we will do is provide you with a detailed analysis of your roof, broken down by sections. This prioritized roofing report will:
identify any emergency or temporary repairs required to prevent further damage
note any areas where future repairs or upgrades will be required
document any aging, damaged, missing or improperly installed components that may allow for water leakage
map any current leaks, and trace them to their source
locate any debris on your roof, particularly near drains, gutters, and vents
Supplementary digital photos will be provided with all commercial roof inspections, so you can see exactly what the problems are and where they are located. The final condition report we issue will take into account:
your roof type (surface material and ballast, noting any splits, tears, and damage to end and lap joints)
roof construction (angle, drainage type, and expansion joints)
ponding water (and any damage it has caused)
perimeter details (flashings, caps, loose fasteners, damaged caulking joints, etc.)
and all roof projections (HVAC units, vents, drains, gutters, and so on) 
Commercial Roofing Maintenance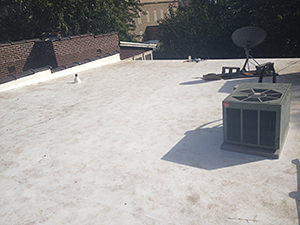 In addition to performing commercial roof inspections, we also offer a commercial roofing maintenance programs, starting at just $199. We will work with you to customize a maintenance package that best suits your needs and your budget. Our packages include:
Regular visual roof inspections and reports (digital photos included)
Free debris removal from all roofs, drains, and gutters
Post-storm inspections, designed to identify any new damage and identify necessary minor repairs before problems occur
You will also receive discounted access to:
Emergency repair services (you pay a $150 service fee, plus materials at cost +10% with up to two free hours of labor included)
Priority post-storm commercial roof check-up and analysis for $49.95 (regular price $99.95, and if we cannot respond within 12 hours, the report is free)
Low-cost coaching for your in-house maintenance team, so that they can more effectively respond to minor issues that may arise
Commercial Roofing: Working With Your Insurance Company
Storms and other severe weather can cause major damage to your roof. Should disaster strike, you can rest assured that we will do everything we can to help. We can usually have an expert commercial roofing contractor on-site within hours, documenting the damage and putting together a preliminary analysis of repairs required. This sort of real-time documentation, taken before any emergency repairs have been made, can prove critical when it comes to filing an insurance claim. Though a roofing company cannot legally represent you in negotiations with your insurance adjustor, we can provide recommendations for trusted public adjustors who can help you get the best possible settlement from your insurance company.
Our Promise for Commercial Roofing Customers
At Schneider Roofing & Remodeling, we know how difficult it can be to find a contractor you can trust. Whether you need emergency repairs, a commercial roof inspection, or an affordable maintenance program, we can help – and provide you with the peace of mind that comes with knowing that your roofing company is not going to try to sell unneeded services or replacements. Contact us online or by phone today to learn more.