Should Something Happen to Your Roof, Make Us One of Your First Calls!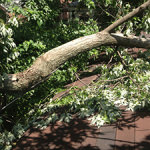 Spring is almost here and brings with it some of the most active storm months. Storms can mean "bad news" for your roof! You might be faced with leaks, missing shingles, or some other type of damage. If that's the case, call us (a local roofing company) a call!
Areas that are hit by large storms are often the first targeted by storm chasers. These storm chasers can be contractors from hundreds of miles away, who rush to areas hit by storms. Often, their only goal is to replace as many roofs as possible, collect as much money as possible, and then leave as quickly as possible.
Few storm chasers put any type of value on customer service, roof quality or craftsmanship. Speed is their primary concern. And in a year or two, when a big rain hits and a few leaks pop up, you'll call them only to find a disconnected number! That is something you will never have to worry about with Schneider Roofing and Remodeling. We're from here. This is our town. We value great work, and in the uncommon occurrence that a problem arises, we'll be right here to fix it.
There's another reason why you will want to call us should something happen to your roof: we have a long history of working with insurance companies. We will be more than happy to meet with your insurance adjuster as he/she evaluates your property. We can act as an advocate for YOU, so you receive the absolute best outcome with your claim. Often, we can point out things to an adjuster that they may have missed, and as a result, you benefit!
We hope you don't have to call us with an emergency from a springtime storm, but if you do you will know that your interests are our first priority. You can count on us to provide you with excellent, long-lasting customer service!