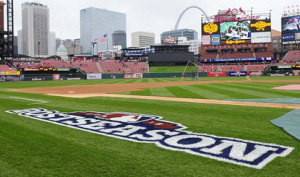 It is that time of year again Cardinals fans!! It just wouldn't feel like October if the Cards weren't playing baseball! To help get in the spirit (as if we needed any help…), here are some baseball trivia questions (answers are at the bottom of the list). See how many of these you can identify!
1. I was known as "The Flying Dutchman" and was a charter member of the Hall of Fame, elected in 1936.
2. I am also in the Football Hall of Fame (as a player) and in the Baseball Hall of Fame as an umpire.
3. During the latter years of my life, I was known as "Baseball's Greatest Living Player," but, in fact, I was not elected to the Hall of Fame during my first few years of eligibility.
4. I was known as "The Grey Eagle" when I roamed centerfield during the first quarter of the 20th century.
5. I have the highest percentage of votes ever garnered for an elected member of the Hall of Fame.
6. We played in different eras, but both of us suffered tragic and premature deaths, so any waiting periods before our admissions into Cooperstown were waived.
7. I was honored to be called the "Grand Old Man of Baseball."
8. I am the only player in the Hall of Fame to pitch 10 seasons in
which I posted a winning record in each of those years. In fact, my lowest winning percentage was .643.
Answers
1. Honus Wagner
2. Cal Hubbard
3. Joe DiMaggio
4. Tris Speaker
5. Tom Seaver
6. Lou Gehrig and Roberto Clemente
7. Connie Mack
8. Babe Ruth