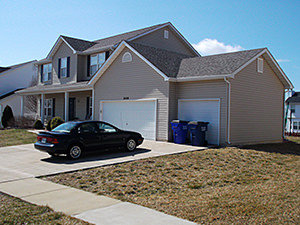 Vinyl siding can update and renew the exterior look of any home. If you are in the market for a facelift on your house, consider having new vinyl siding installed! Here at Schneider Roofing and Remodeling, we are more than just a roofing company. We are expert siding contractors in Ballwin too, and have been in the field for over 25 years. Whether your home needs siding repair or a full on new installation, our Ballwin siding contractors can deliver the service you need.
To learn more about the services offered by our Ballwin siding contractors, including our repair services and installation, contact our roofing company online or by phone at 314-378-6623.
Vinyl Siding: A Beautiful & Functional Choice Delivered
Vinyl siding can make all the difference to your home's exterior. It can deliver a modern curb appeal and update the look with a simple installation. Vinyl siding offers the opportunity for any kind of style aesthetic you are looking for with its array of color and pattern availability. You can create a classic, neutral look with a traditional siding pattern, or go out on a limb and create a bold dynamic with a striking pattern and color. Whatever you have in mind, our Ballwin siding contractors will work with you to create the perfect vinyl siding solution for your home.
Added benefits of vinyl siding are that it delivers an additional layer of insulation for your home, keeping the premises cooler in the summer and warmer in the winter. Our Ballwin siding contractors typically recommend adding a full house wrap before fitting your siding as it provides an additional layer of protection from the elements.
What Makes Schneider the Right Company for Your Ballwin Siding Contractor Services?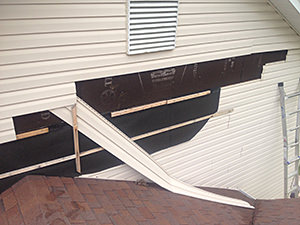 Schneider Roofing and Remodeling has been Ballwin siding contractors for over 25 years. We are a family owned company with a priority on honest and dependable customer service. Our reputation as a roofing company with integrity is our most important asset, and we believe this is well represented by our A+ rating with the Better Business Bureau. Additionally, we have a lengthy list of positive reviews left by our past customers that also speak for themselves. We stand behind our work, and offer our customers a 100% satisfaction guarantee. We treat each job we do as if it is a personal project, because our customers are also our neighbors. Our methods and materials are field tested, and we make it our promise to deliver for you!
Learn More About the Services Offered by Our Ballwin Siding Contractors
If you would like to learn more about what our Ballwin siding contractors can do for you, contact our roofing company online or by phone at 314-378-6623! You can speak with a Ballwin siding contractor to discuss the project you have in mind for your home today!