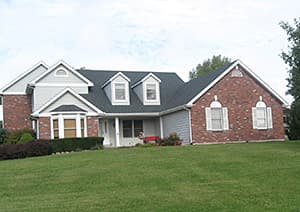 When it comes to making choices about your roofing contractor, do not trust the work to amateurs. Schneider Roofing and Remodeling is one of the most trusted roofing contractors in St. Charles and the surrounding areas – and with good reason. With a knowledgeable, upstanding management staff, a reliable, experienced team of skilled craftsman, and a company culture that values customer satisfaction above all else, it just does not make sense to hire a different roofing contractor. We use only the highest quality materials, and all of our techniques have been thoroughly field-tested, so that we can be sure that we are delivering exactly what we promise: quality.
If you are looking for a roofing company you can trust in the St. Charles area, contact us today to speak with one of our friendly roofing specialists.
A Roofing Contractor Who Cares
As a third-generation roofing and home renovation expert, Charlie Schneider learned the values of hard work, honesty, and respect at his father and grandfather's knees. This approach to business is summed up by the company motto, drawn from Proverbs 22:1, "a good name is more desirable than great riches". With this business philosophy in mind, Charlie Schneider has successfully built a roofing company known throughout the St. Charles area for it is respectability, work ethic, and the value it places on customers.
By the time Charlie Schneider finished his studies at Lewis & Clark Tech, he already had a decade of experience on construction sites thanks to his father. Charlie started his professional career as a carpenter, eventually earning his membership in the Carpenter's Union. These early experiences and hard-won skills laid the foundation for the establishment of Schneider Roofing and Remodeling, which has now been serving the greater St. Charles' area for over twenty years.
A Roofing Contractor with Integrity
Unlike the many dishonest roofing contractors, you can trust that Schneider Roofing and Remodeling will always offer you a fair price on the services you need and will never try to sell you those you do not. Excellent workmanship is guaranteed; so do not be surprised if Charlie is out at the site supervising the work personally. All of our employees are local, and these employees are held to the highest standards of personal and professional behavior. Drug tests and background checks are required for all employees for your protection, and we carry full liability insurance, worker's compensation insurance, and are fully OSHA compliant. In short, we go above and beyond to ensure the safety and security of your property during the project.
Our Commitment to Customer Satisfaction
Schneider Roofing and Remodeling is a roofing contractor that delivers on its promises. Customer service and satisfaction are our roofing company's highest priority, and we pride ourselves on exceeding our customers' expectations, and delivering only the highest quality work.
At Schneider Roofing and Remodeling, we maintain an A+ Better Business Bureau rating, but our reputation is even more impressive than that. As long as we have been a roofing contractor, Schneider Roofing and Remodeling has never had one complaint lodged with the Better Business Bureau, nor had a dissatisfied customer. Anyone who has ever owned or operated a business knows how impressive that is, and how rare.
To learn more about our company and for a hassle free roofing inspection or repair estimate, contact us today online or by phone at 314-378-6623.